CNC PRO-MASTER 7225 Black Matrix machining center: Excellent machining results with 5 interpolating axes
Die PRO-MASTER 7225 Black Matrix offers enormous flexibility and maximum ease of use. This new 5 axis CNC machining center features high quality components for many years of precision work with maximum operating reliability. This includes covered, hardened and ground linear guides on all axes. Moreover, the optimized, extremely rigid machine and traveling stands ensure excellent machining results. The precision ball-bearing spindles for the Z axis and the beveled, ground gear racks in the X and Y directions guarantee high precision machining over the entire machine length. And best of all: with HOLZ-HER CNC machines you get a 10 year guarantee on all linear guides!
The PRO-MASTER 7225 Black Matrix has state-of-the-art control and drive technology with powerful direct drive on all fully interpolating axes. Powerful cutter units with excellent performance curves and maximum operating smoothness allow your creativity to be realized in the form of products with maximum machining quality. The drilling unit is laid out for short cycle times and highly varying types of processing.
The precision milled "High Flow Vacuum Table" holds workpieces securely. The stop pins are anodized and run in hardened, readjustable eccentric bushings for permanently exact zero points. Traveling tool changers and stationary pick-up changers ensure short tool change times.
Prices
x
Different requirements - different prices
The price of a HOLZHER machine is just as individual as your requirements are. Therefore, let us discuss briefly what is most important to you – you will then receive our preliminary, non-binding quote.
Personal advice
x
Personal advice – for higher productivity and greater efficiency
Together with your HOLZHER expert you will find the ideal machine for your requirements. Simply submit the completed form, and your local HOLZHER expert will be happy to discuss all further details with you.
---
Here is what the HOLZ-HER 72 series offers
Here is what the HOLZ-HER PRO-MASTER 7225 offers
Powerful 5-axis "Matrix" cutter unit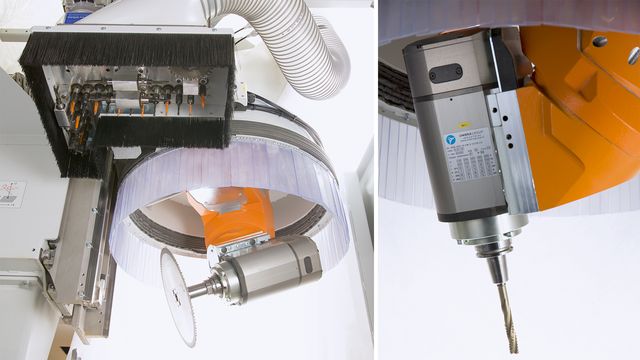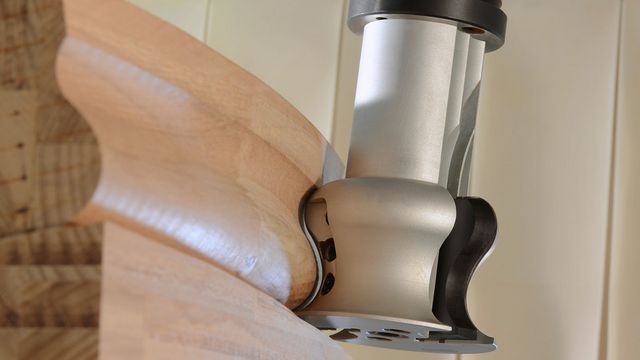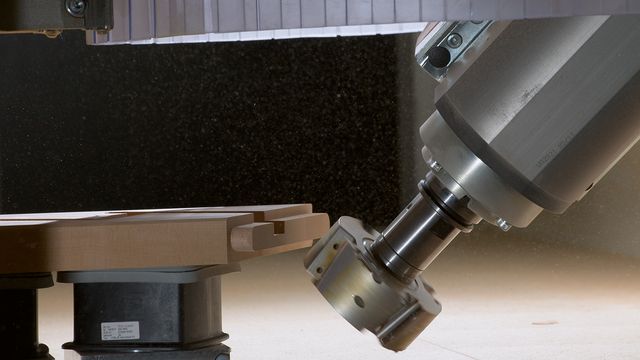 The "fifth dimension" in woodworking
The gimbal-mounted machining head with up to 17 kW (standard 10 kW) ensures precise guidance for complex curled or curved parts such as stair railings or furniture or model shapes with complicated design. The compact, powerful and fully interpolating machining head operates at speeds up to 24,000 rpm; its ceramic bearings and liquid cooling allow it to work under extremely high loads.
The special feature of the optional 17 kW spindle (S6) is the PRO-TORQUE technology, which automatically locks the A and C axes mechanically, allowing extremely high torque at the spindle. Optimum evacuation is achieved by the evacuation hood with 8 adjustment positions.
CabinetControl - for programming your furniture simply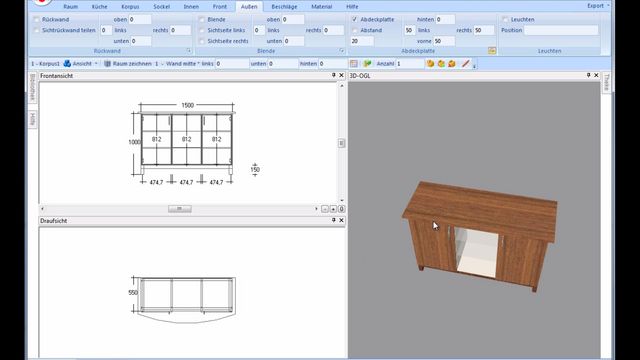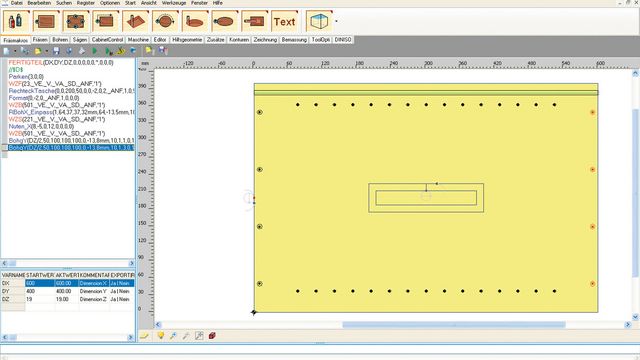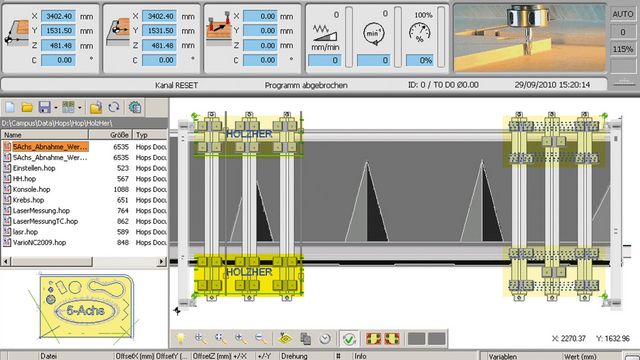 CabinetControl – software for simple furniture designing
Our high quality, user-friendly HOLZ-HER machine control system is an integral part of the machine's design. The equipment package includes CAMPUS / NC Hops with office and machine license and full-fledged aCADemy CAD software. The integrated CabinetControl Base furniture design software rounds out this premium package. This offer provides the prerequisites for effective machining and convenient operation with barcode interface, manual control unit, import features and much more.
CabinetControl Base included as standard feature in software package.
Design of furniture.
Views can be represented in 2D or 3D.
Quick adaptation to individual desires of furniture buyers.
Perfect presentation of furniture.
Automatic completion of cutting plans.
Generates CNC machining program automatically at the touch of a button.
An optional professional version, the CabinetControl PRO, is also available with library, calculation, data transfer to pressure beam saws, etc. Also ideal for planning kitchens and rooms.
CabinetControl Pro - Perfect 3D room planning with cabinet generator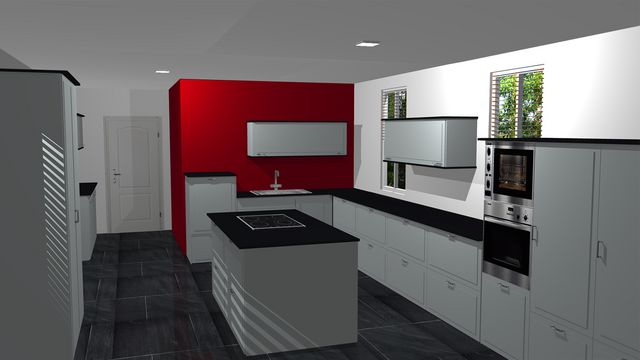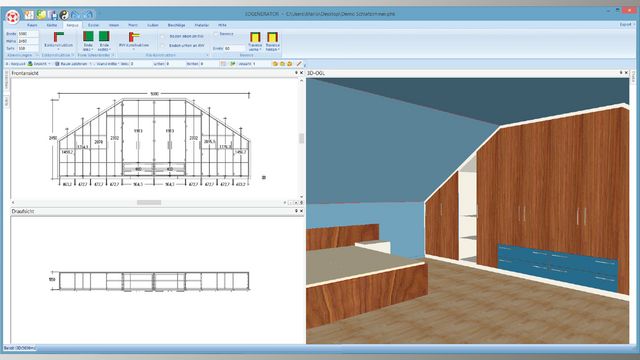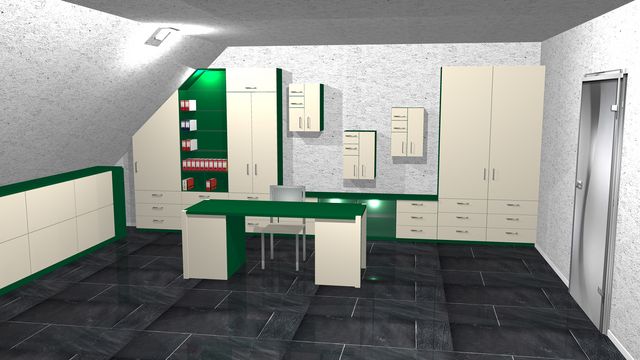 CabinetControl Pro is the extension for professional use in furniture planning and customer presentation. Plan furniture or design entire living situations. Support your customer's imagination for faster decisions. Present the planned furniture photorealistically from any perspective directly to the customer on site.
Furniture
Plan your furniture in different room situations: Wardrobes, pitched roof cupboards, dormer cupboards, kitchens, bathroom furniture, office furniture, wardrobes, sliding door cupboards, living room furniture, sideboards, built-in cupboards, hi-fi and TV furniture, counters, beds, tables, etc.
Simple
As a carpenter, you know how furniture is made. With just a few entries, you can go directly to the finished planning without any CAD knowledge at all. From there it is just a push of a button and all data is ready for production. This way you can quickly and easily get to the planning and work preparation stage.
Planning
Together with your customer you plan and present your furniture quickly and vividly. You implement any spontaneous change request directly and your customer immediately knows exactly what he is getting. This makes his decision easier and you will get your order more quickly.
The cutting data and the CNC programs for your HOLZ-HER panel saw and the HOLZ-HER CNC machine are automatically generated with the planning. The additional option TrunRAY perfects the display of the created renderings.
CAMPUS 5-axis module - 3D simulation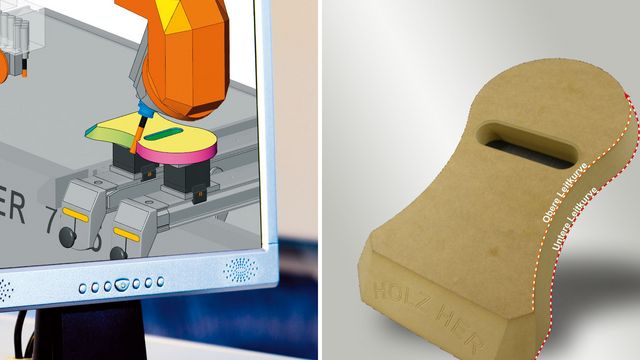 3D material removal simulation as standard feature
Even the basic versions of the PRO-MASTER machines are equipped with our mature 3D material removal simulation feature. The CAMPUS 3D machine simulation can be ordered as an optional feature. This offers:
Collision monitoring
Three-dimensional simulation of machine motions and material removal on workpiece
Graphic representation of machining head, tool and tool collet, table and clamping device.
Genuine, high speed, 5-axis cutter with CURVE 3D
For 5-axis power users, the option CURVE 3D Performance package offers additional advantages. This allows the first class performance of the 5-axis spindle to be used for effective high speed cutting with perfect results. The CURVE 3D module is also ideal for increasing the power in combination with CAD/CAM software from other suppliers and offers perfect spline interpolation.
CAMPUS 5-axis module for simultaneous cutting
The NC HOPS supplement module supports interpolating 5-axis machining in many areas such as:
5-axis simultaneous cutting.
Support of 5-axis interpolation with top and bottom guide curves (simultaneous machining).
Two contours on defined layers are interpreted as 5-axis machining.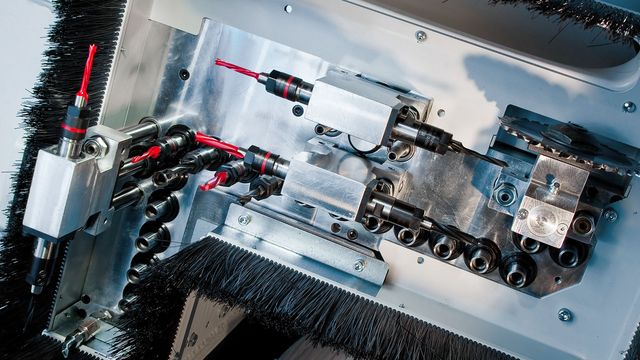 The PRO-MASTER is perfectly equipped with drilling heads for optional integration.
16 spindles
Drilling unit with 10 vertical spindles (X = 6 / Y = 4)
Six horizontal spindles (two double drilling spindles in X direction / one in Y direction)
Integrated grooving saw in X direction.
The pressure booster included as a standard feature provides even more power for the drilling unit.
24 spindles
Drilling unit with 18 vertical spindles (X = 11 + 2 / Y = 6)
Six horizontal spindles (two double drilling spindles in X direction / one in Y direction)
Integrated grooving saw in X direction.
The pressure booster included as a standard feature provides even more power for the drilling unit.
Machining head - optimized for practice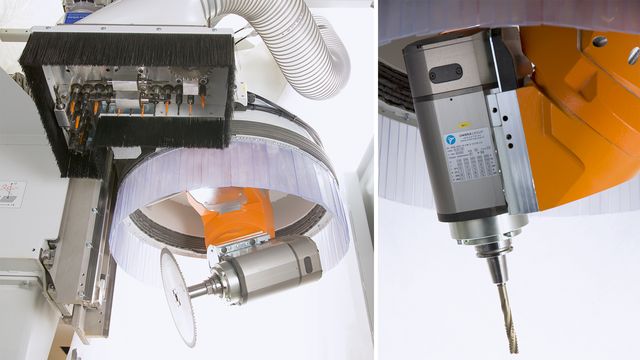 Drilling, sawing, cutting, grooving – the machining head on the PRO-MASTER series is equipped for multifunctional use and is perfect for rational production of simple and complex case parts in continuous operation.
The integrated and compact design makes this machining head a paragon for dynamic action, acceleration and positioning accuracy. Even in the basic equipment, the PRO-MASTER series offers a wide machining spectrum.
Highly flexible nesting table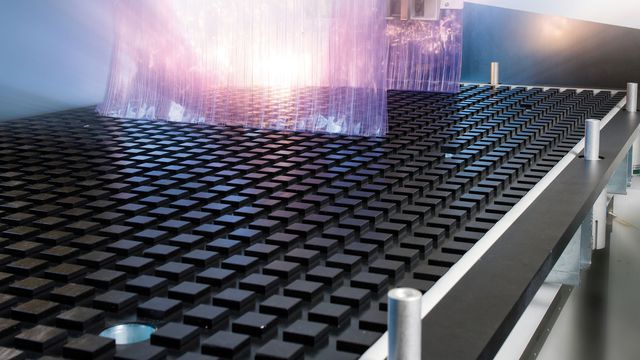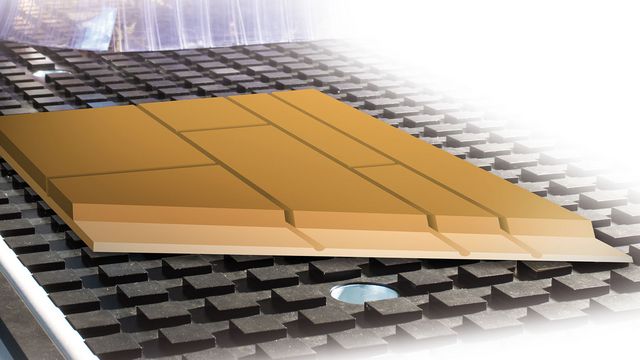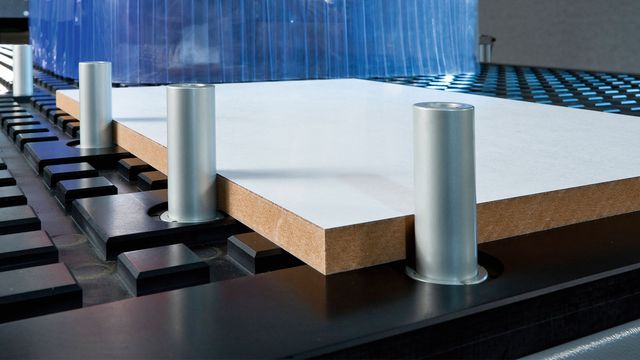 High-Flow Nesting Table
Nesting technology for rational production. With the nesting process, a porous protective panel – usually a thin MDF panel – is held down on the machine table by a vacuum. It provides a large surface for suction and serves to support the workpieces to be processed. Nesting technology allows optimized processing and cutting of panel materials.
For formatting nesting cutting plans on the nesting table.
Workpieces can be processed with manually positioned suction cups.
The HOLZ-HER nesting table has small matrix dimensions – of only 50 mm – to ensure maximum vacuum flux over the entire table surface.
4 Machining fields front (stroke 150 mm) and rear (stroke 70 mm) with stops.
Plenty of space for all tools.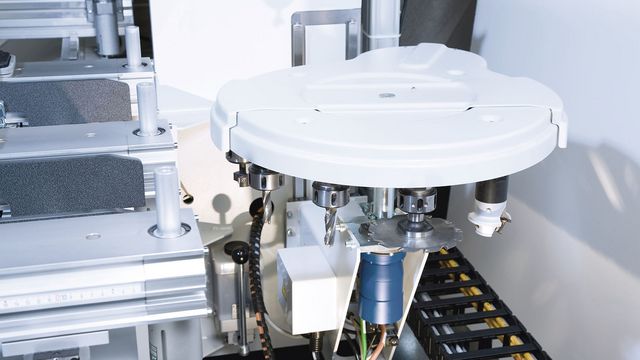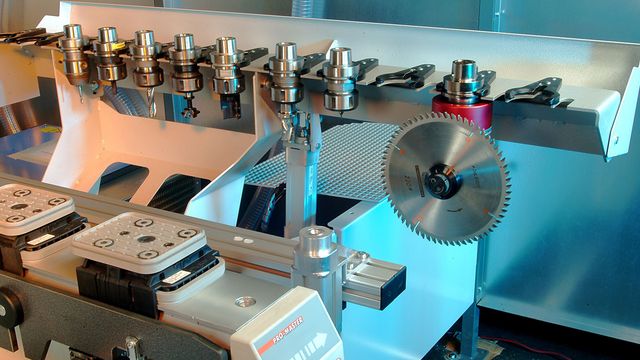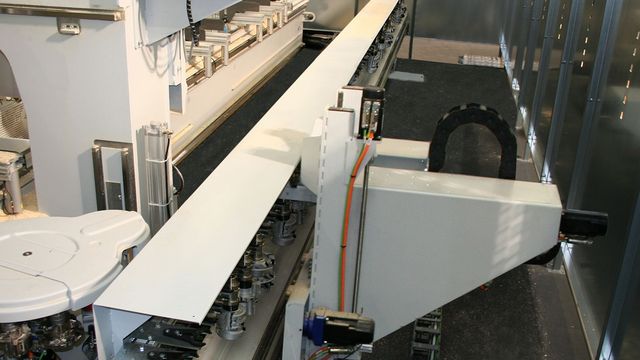 The traveling disk tool changer with 12 or 18 tool positions ensures short changeover times and maximum productivity. A special pick-up tool changer is available for saw blades with dia. up to 350 mm.
Another supplementary feature is a pick-up tool changer with two positions for large angle gears as well as 14 or 16-position linear tool changer for an extensive range of tools.
Tool-intensive applications, such as are frequently required for window construction, are also possible with an optional shuttle type tool changer with up to 60 tool positions.
Innovative changeover units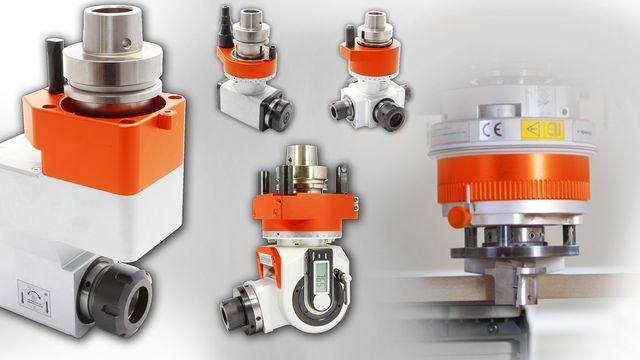 Your advantage for high product quality
A variety of changeover units for highly varying applications is available for all machines in the PRO-MASTER series. These range from conventional multi-spindle machines, lock box and sawing units to special applications such as hollow cutting chisels and cutting units for machining foam materials, etc.
Angular slewing gears with angle display and central angle adjustment are available for precision angle cuts and holes.
TouchLabel - overview of labels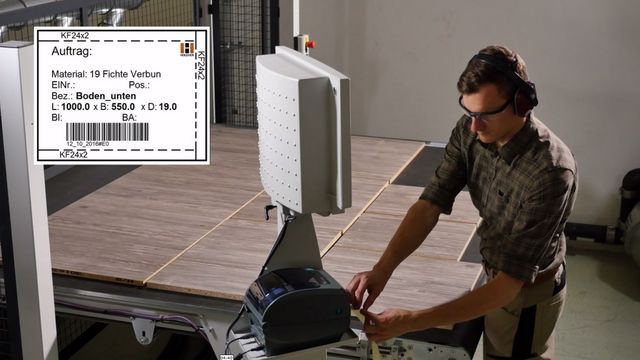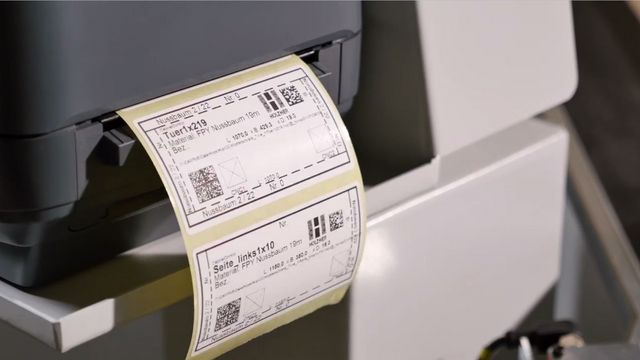 TouchLabel - the perfect solution for labeling
The 21.5" touch screen provides a perfect overview of the machining results. Simply tap the workpiece and the label printer included in the package prints out a self-adhesive barcode label.
The integrated CAMPUS module label printer allows printout of normal text as well as barcodes (barcode and 2D data matrix). Naturally, your barcode labels can be adapted to your specific requirements with the label template editor.
Multiple circuit vacuum systems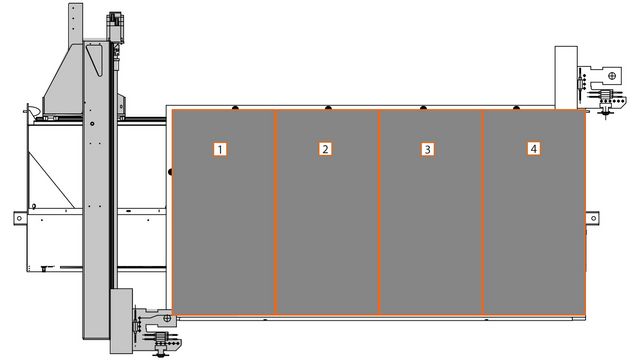 Flexible vacuum zones for variable panel sizes
The optional multiple circuit vacuum systems offer the possibility of subdividing the nesting table into various vacuum zones with the control. This feature makes it possible to choose between 2-field, 4-field and 8-field solutions.
Ideal for adapting the machining table to various workpiece sizes with simultaneously optimized vacuum.
Perfect for special applications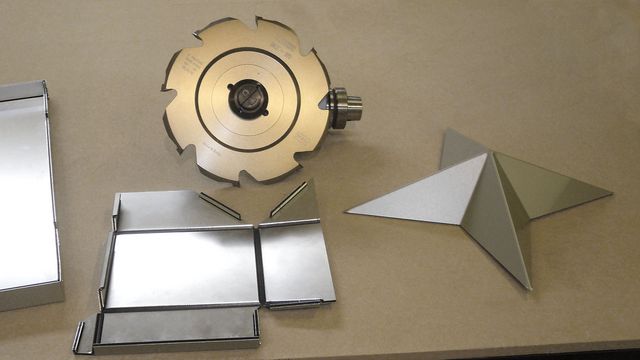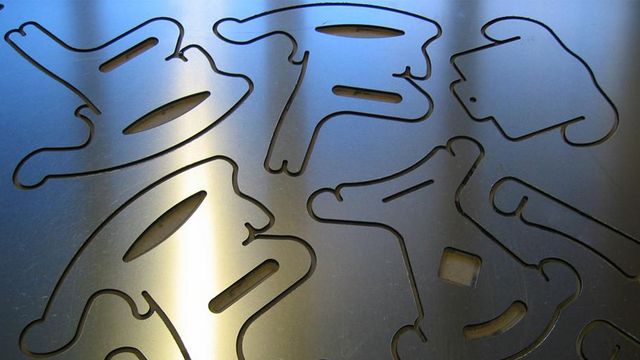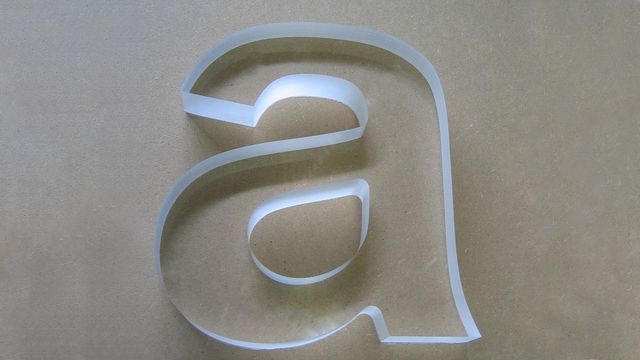 Useful options make it perfect for all applications
Thanks to its flexible options, the PRO-MASTER Black Matrix is laid out perfectly for processing :
Non-ferrous metals
Composite materials (e.g.: ALUCOBOND)
Plastics
Our "ColdGun" guarantees that your workpiece and cutters always remain cool. That is why this option also ensures extremely long tool life. As an alternative, our minimal lubrication feature also offers the possibility of using finely metered parting agents during the processing work.
The use of V-groove cutters and saw blades on HOLZ-HER changeover units also significantly reduces processing times to a minimum.
Lock case cutters for professional door production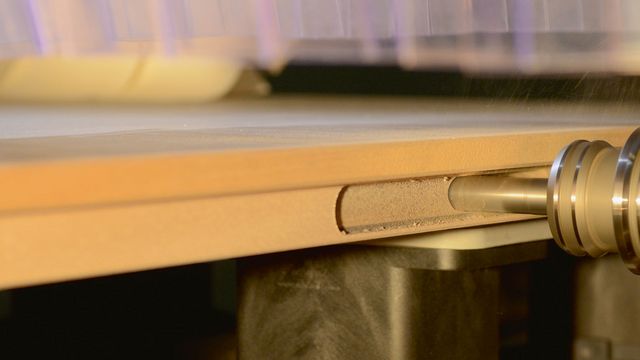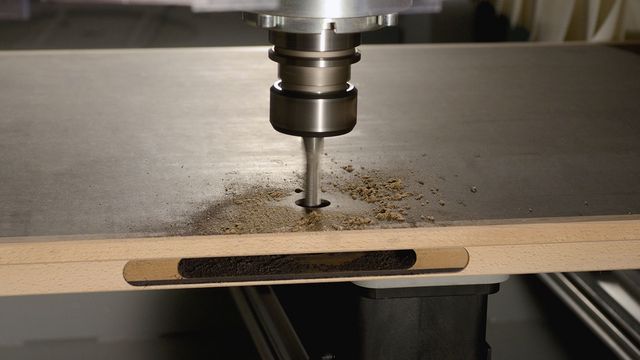 Lock case cutting
High performance cutting motors on the optional horizontal cutter unit make the PRO-MASTER series a must for professional door producers. On the 5-axes version, this work is of course accomplished by the cutter unit.
HOLZ-HER also offers a wide matching selection of reliable, high performance changeover units for all types of applications.
Laser pointers as standard feature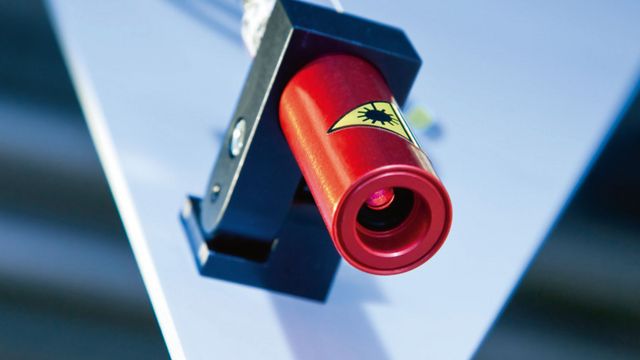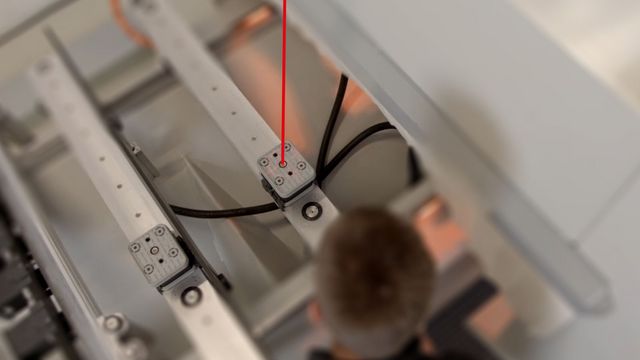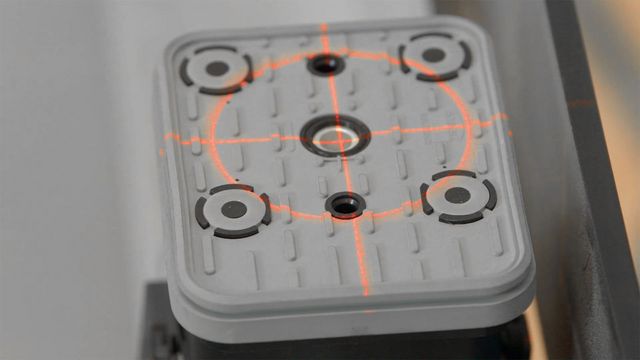 Laser pointers for exact position of the suction cups or for tracing the workpiece contours, attached on the right and left sides of the machining head.
Contour laser – the complete positioning solution
Contour laser – projects entire workpiece contour and all required vacuum suction cups simultaneously as well as all console positions without limitation for number of lines to be projected.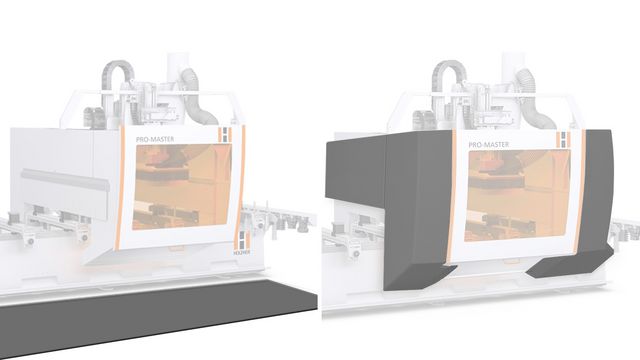 State-of-the-art safety concepts give you the choice between patented 3-field foot mats or safety bumpers. This allows you to match the HOLZ-HER machining centers individually and reliably to your operating situation.
Efficient vacuum technology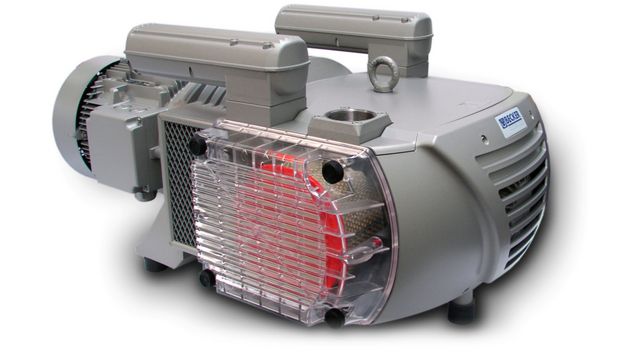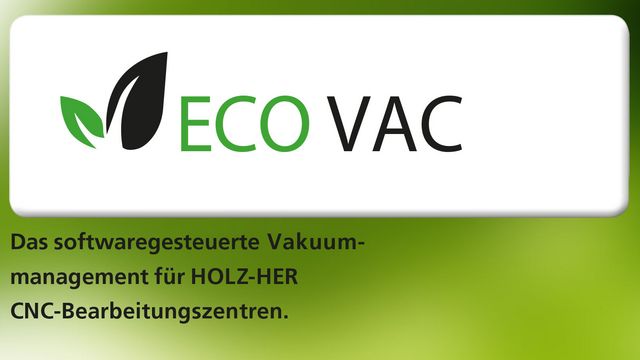 Extremely high performance, efficient vacuum pumps ensure workpiece is held securely. These low maintenance, dry-running pumps are also distinguished by their low noise emissions and extremely low maintenance requirements.
Moreover, our intelligent ECO VAC vacuum control uses a software program to ensure that the required vacuum power is always present when several pumps are used.
Flexible evacuation – programmable for eight positions
Fully automatic positioning in eight positions on machining head, for perfect adaptation of hood to workpiece height. This guarantees optimum evacuation of chips.
Ergonomic design of your workplace is of increasingly greater importance. HOLZ-HER offers a mobile control panel as a standard feature for all PRO-MASTER models. This control panel is equipped with a 21.5", 16:9 monitor offering perfect user convenience. The attached rollers allow the control panel to be positioned for optimum support of the working process.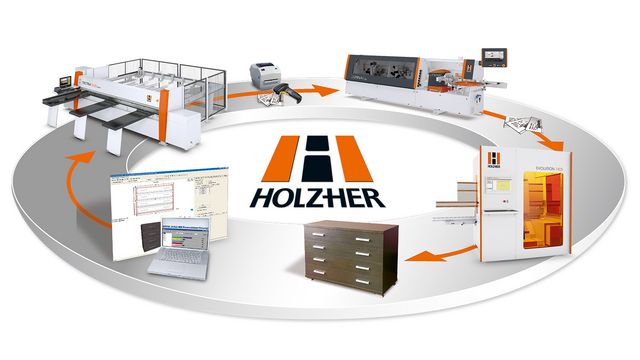 Maximum efficiency with Holz-Her machine networking
HOLZ-HER realizes your production ideas within 20 minutes from the first mouse click to finished furniture with seamless machine networking.
---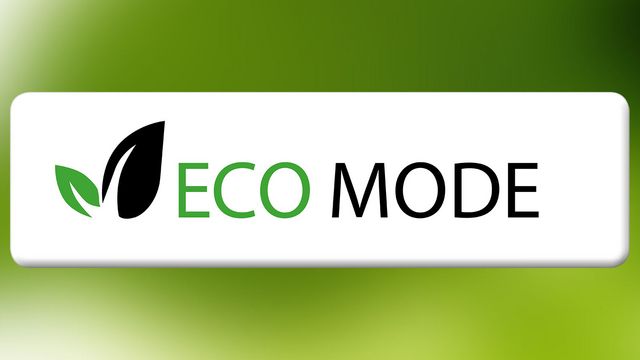 Energy savings made easy
The intelligent ECO MODE energy management for HOLZ-HER CNC machines not only helps preserve our environment - it also saves you money.
---
Made to measure right down to the last detail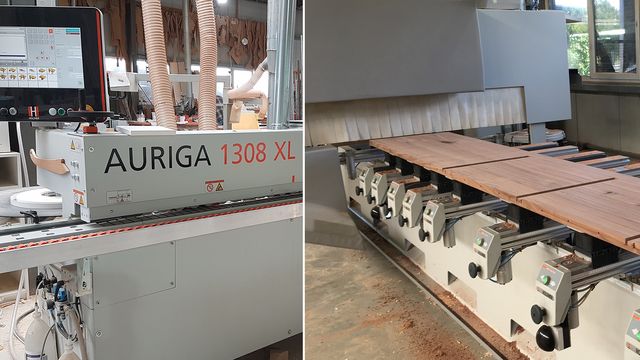 The Company "Massivholz-Möbel GmbH Riedinger" [Riedinger Solid Wood Furniture] in Bühl produces high quality, solid wood furniture to meet the desires and ideas of their customers. The company uses a number of various machines from HOLZ-HER. These include the AURIGA 1308XL edgebander as well as a 5-axis PRO-MASTER 7225 CNC machining center for production of furniture at the Riedinger Company.
The AURIGA 1308XL offers compact, but still extremely efficient, complete processing for edging with three finishing attachments. The PRO-MASTER 7225 CNC machining center offers the company innovative machine design with a range of performance including five interpolating axes to meet all production requirements.
Custom work right down to the smallest detail – with the HOLZ-HER machines now in use, this is more than just a motto for the Riedinger Company.
Professional brand presentation for professional machines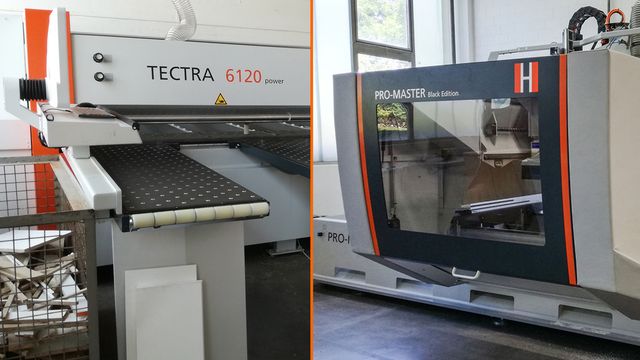 The ARNO Company with headquarters in Wolfschlugen, near Stuttgart, provides for brand presentation at the point of sale – aesthetic, discerning, attractive and efficient. Over 80 years of experience and more than 250 dedicated employees worldwide make this company an expert for all branches in all store, shop in shop, display and digital areas. The complete range includes design, value engineering, construction and production right on up to logistics and installation. The company coordinates complex international projects of all sizes for multinational brands and commercial enterprises.. ARNO is a global player with certified processes and a clear objective: To create worlds for experience, providing purchasing motivation. The ARNO Group includes the headquarters in Wolfschlugen near Stuttgart as well as other companies in Munich, Bristol, Istanbul, Moscow, Guangzhou, Shanghai and a strategic alliance in New York.
Since the end of April two new machines, one PRO-MASTER 7125 5-axis CNC machine and one TECTRA 6120 pressure beam saw from HOLZ-HER have been in use at ARNO in their technical product preparation, prototype design and production departments. After detailed market analysis and comparison, they discovered the machines from HOLZ-HER satisfied the company's high expectations and requirements for machining their wide range of production. In addition to the excellent price/benefit ratio, the decision makers at the company were also convinced by the proximity to the manufacturer as well as the support in disassembling the old machines and installing the new. After comprehensive training, the first orders were produced on the new machines to the full satisfaction of the company. Peter Köstlin, Team Leader fir Technical Pre-Production, is enthusiastic about the new machines: "It is simply a lot of fun to work with these new machines and continuously discover new possibilities."
Edgebanding, CNC & complete machine united in production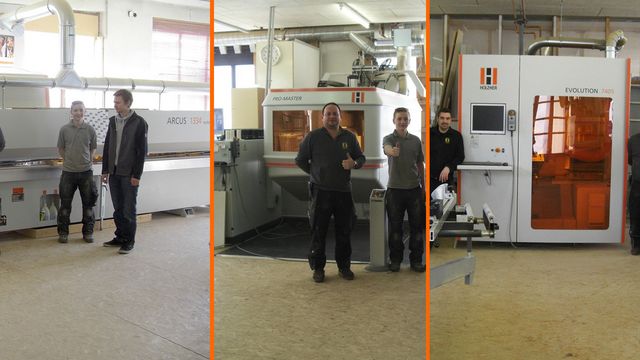 The Henss Interior Finishing Company in Feldkirch, better known as AUF&ZU (OPEN&CLOSE), is a satisfied HOLZ-HER customer, and, in the meantime, uses a majority of the production machines from the traditional manufacturer in Nürtingen.
The brand AUF&ZU is the result of decades of experience in interior finishing work. Starting with sliding doors, the idea was transferred to cabinet design. The cabinets have become rooms, where every inch of the room is used for a practical purpose. The AUF&ZU systems are planned to meet specific needs and visually matched to the tastes of the customer - without being subject to any limitations in design. Over 60 years of experience in the branch, has resulted in know-how appreciated by many regular customers.
All of the company's products are produce in their own shop. Since 2013 AUF&ZU has used HOLZ-HER machines for its production. Products already installed include a PRO-MASTER 7225 5-axis machining center as well as an EVOLUTION 7405 vertical CNC machining center for complete machining of all types of work. In addition to CNC machining, the company also used edgebanders from HOLZ-HER. Currently the predecessor model of the ACCURA is installed: an ARCUS 1334.
HOLZ-HER machines represent everything important for the AUF&ZU Company: Precision work, state-of-the-art engineering and use of European products, to produce high quality, enduring products for the customers.