Edgebanding, CNC & complete machine united in production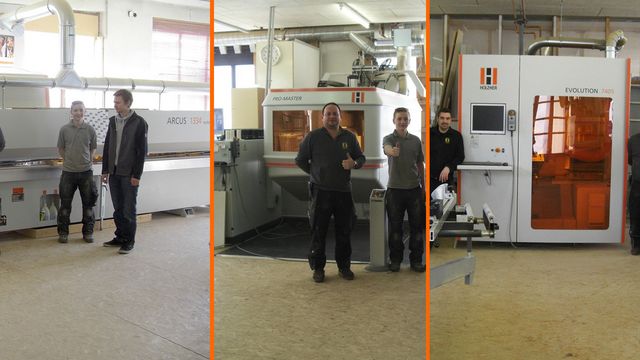 The Henss Interior Finishing Company in Feldkirch, better known as AUF&ZU (OPEN&CLOSE), is a satisfied HOLZ-HER customer, and, in the meantime, uses a majority of the production machines from the traditional manufacturer in Nürtingen.
The brand AUF&ZU is the result of decades of experience in interior finishing work. Starting with sliding doors, the idea was transferred to cabinet design. The cabinets have become rooms, where every inch of the room is used for a practical purpose. The AUF&ZU systems are planned to meet specific needs and visually matched to the tastes of the customer - without being subject to any limitations in design. Over 60 years of experience in the branch, has resulted in know-how appreciated by many regular customers.
All of the company's products are produce in their own shop. Since 2013 AUF&ZU has used HOLZ-HER machines for its production. Products already installed include a PRO-MASTER 7225 5-axis machining center as well as an EVOLUTION 7405 vertical CNC machining center for complete machining of all types of work. In addition to CNC machining, the company also used edgebanders from HOLZ-HER. Currently the predecessor model of the ACCURA is installed: an ARCUS 1334.
HOLZ-HER machines represent everything important for the AUF&ZU Company: Precision work, state-of-the-art engineering and use of European products, to produce high quality, enduring products for the customers.