Tickets inside: the LIGNA is coming and we are inviting you to it!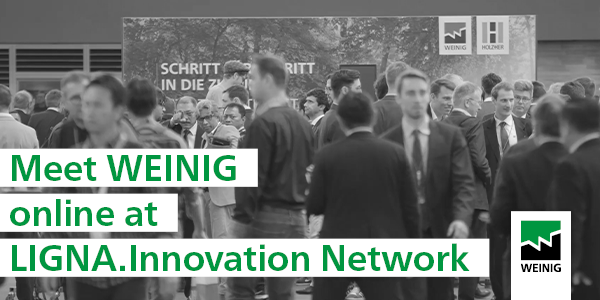 Dear Ladies and Gentlemen,
there are only 3 weeks left until LIGNA Innovation Network! Do you already have your tickets? No? Then it is high time! But no worries, we invite you! Under the following link you can pick up your free ticket to the digital LIGNA 2021: Get your ticket!
The last, strange 18 months have shown us how much is possible if only it has to be, and how half of our life has been moved to the digital world. Of course, it's a pity that LIGNA is not held in presence, that we can't greet you in person, show you our machines in action and talk to you face to face. But we make the best of it! Our experts will still be available to talk to you during the digital LIGNA, and there will be plenty to see in our video streams. Join us on this digital journey!
By the way, WEINIG is coming up with slightly different innovations than usual this year. Watch our video streams and get a first glimpse of what's coming!
Monday, Sept. 27, and Tuesday, Sept. 28, we cordially invite you to immerse yourself in the world of WEINIG for 25 minutes. Drop by and glimpse the WEINIG.EXPERIENCE...