CNC machines PRO-MASTER 70 series: Professional CNC Technology for Universal Machining
The PRO-MASTER 70 series from HOLZ-HER makes it easier than ever to decide in favor of efficient CNC technology. The 70 series offers rational machining and a high level of flexibility especially for production of case parts. With 180 mm from the top of the suction cups, the 70 series from HOLZ-HER offers the maximum working height in its class.
This well-thought-through concept offers solutions for all applications – choose the right model for your application. State-of-the-art safety concepts give you the choice between patented 3-field foot mats, safety bumpers or light grids. This allows you to match the HOLZ-HER machining centers individually and reliably to your operating situation.
Always included – the CAMPUS control with integrated CabinetControl Base software. Our high quality, user-friendly HOLZ-HER machine control system is an integral part of the machine's design. The equipment package includes CAMPUS / NC Hops with office and machine license and full-fledged aCADemy CAD software. The integrated CabinetControl Base furniture design software rounds out this premium package.
Your choice – perfectly matched to your requirements as PRO-MASTER 7017 classic and performance or the more powerful version, the PRO-MASTER 7018 premium.

HOLZ-HER PRO-MASTER 7018 premium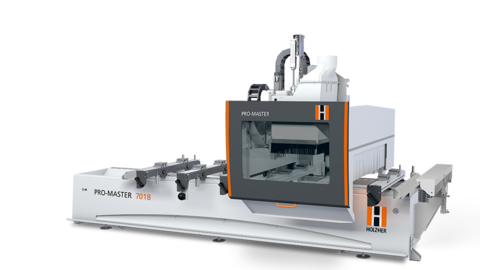 The all round talent with complete equipment package
Standard on Full Equipment Version
Powerful Cutting Spindles
Extremely Flexible with 4.5 Axes
Easy-To-Operate Consoles
Precision Direct Drives
Detail page 7018 premium
HOLZ-HER PRO-MASTER 7017 performance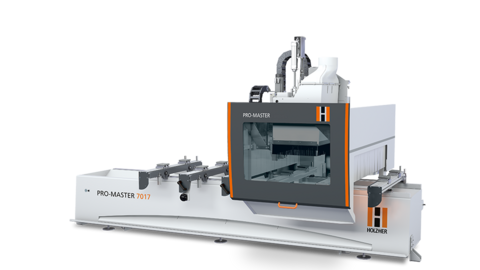 Efficient pendular processing for high productivity
High Level of Standard Features
Effective Pendular Processing
Powerful Cutting Spindles
Easy-To-Operate Consoles
Precision Direct Drives
Detail page 7017 performance
HOLZ-HER PRO-MASTER 7017 classic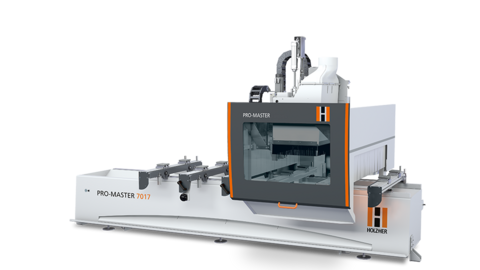 Genuine formatting and drilling center and much more...
Compact, High Performance Package
Leading From the Start
Powerful Cutting Spindles
Easy-To-Operate Consoles
Precision Direct Drives
Detail page 7017 classic
---
Here is what the HOLZ-HER PRO-MASTER 70 series offers
Maximum flexibility using proven processes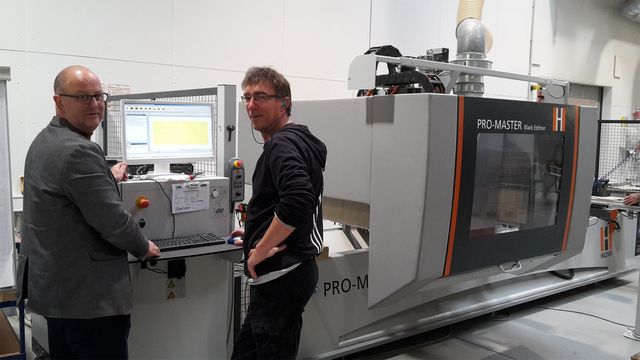 OWB is an innovative, non-profit organization in the social field, offering jobs for people with handicaps. The organization would like to offer everyone with a handicap a job, which they enjoy and for which they are ideally suited. OWB's utmost priority is to foster the entire personality of each individual effectively. The employees are introduced to normal, everyday work under realistic working conditions.
Woodworking is one of the most popular fields of work at OWB. Use of a natural material like wood makes the employees enthusiastic and allows the workshop to offer jobs with highly varying demands, offering the ideal area of activity for each individual. The new HOLZ-HER PRO-MASTER 7018 provides perfect support for the staff at the OWB woodworking shop. With its four interpolating axes, the machine facilitates the work considerably. For OWB employees the regulated processes make them particularly compatible for handicaps. The new CNC machining center therefore offers the advantage of integrating maximum flexibility into the existing operating processes.
The employees at the OWB workshop produce, above all, products related to the subjects of modernization / presentation. This product line has been on sale for several years now at the OWB online shop. Among others they sell a modular kit for psychologist, the so-called Inszenario® set This is thoroughly tested, highly effective communication medium to help make fundamental, interpersonal psychological problems visible as an initial step in finding a solution. The range also includes a moderation case produced of native beechwood. All products are top grade and very popular.
"Snooze à la Carte" with high quality water beds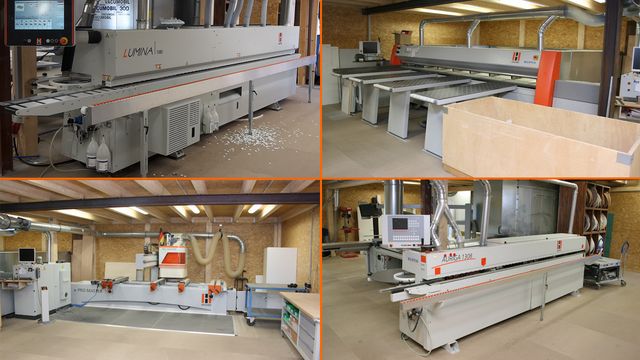 The Kobe Carpentry Shop in Reutlingen has been a loyal HOLZ-HER customer for many years. This year, proprietor Michael Kobe and his team purchased a new LUMINA 1380 edgebander. Following an AURIGA 1308 edgebander, a PRO-MASTER 7018 CNC machining center and a CUT 6120 horizontal pressure beam saw this is the fourth machine from the quality manufacturer HOLZ-HER in Nürtingen. Master Carpenter Tobias Ernst is enthusiastic about the new high tech edgebander: The LUMINA has a change-over station to ensure perfectly invisible joints with laser edging as well as with PUR glue without requiring a great amount of time to change attachments.
This three-man shop in Reutlingen has specialized in building water and box spring beds. It has adopted the motto "Snooze à la Carte". The carpentry shop works with a state-of-the-art measuring system to ensure custom sleeping comfort at the highest level. The components and frames are produced in the company's own workshop to customer specifications. In addition to high quality beds, in the meantime the carpentry shop is now producing more and more exclusive bedroom furniture and interior finishing elements. The carpentry shop's products can be viewed in their exhibition rooms in Böblingen and Reutlingen.