EVOLUTION Series CNC Machining Centers: Vertical and complete CNC machining in compact format
Unique features with the vertical CNC machines for wood processing - Your choice – perfectly matched to your requirements as EVOLUTION 7402, EVOLUTION 7405 4mat or the more powerful version, the EVOLUTION 7405 Connect. The machining capabilities of the EVOLUTION Series vertical CNC machining centers are virtually unlimited. A selection of solid wood suction cups are available for machining solid wood frames and panels. Even curved solid wood parts, furniture fronts of MDF for painting, cutting and drilling of furniture fronts, engraving or complete processing of counter tops are further application possibilities for which the EVOLUTION series perfectly suits.
The vacuum-based clamping system (patent pending) is material-friendly and equipped with software-controlled, fully automatic suction cup positioning with hole recognition, allowing workpieces with lengths up to 1,600 mm to be machined on all sides without reclamping. This also guarantees extremely short cycle times and maximum precision even on long parts.

CNC Machining Center EVOLUTION 7405 Connect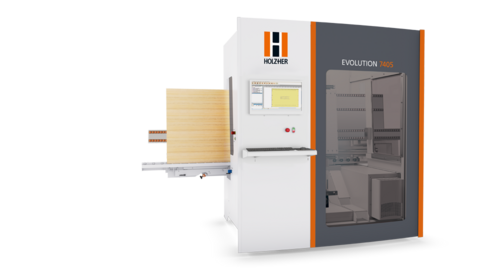 Complete CNC machining with Lamello P-System compatibility
Connect Package Lamello Clamex connector set
CAMPUS V7 Machine Control
Drilling Unit and Cutter Unit as Standard Features
Complete Processing
Unique Clamping Concept
Detail page EVOLUTION 7405 Connect
CNC Machining Center EVOLUTION 7405 4mat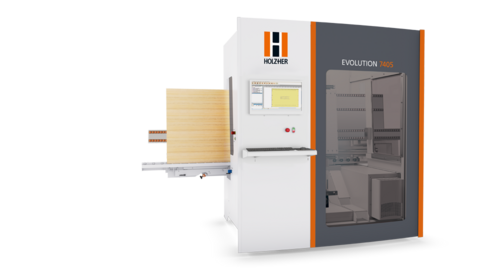 Complete CNC machining in compact format
CAMPUS V7 Machine Control
Drilling Unit and Cutter Unit as Standard Features
Complete Processing
Unique Clamping Concept
Precision Direct Drives
Detail page EVOLUTION 7405 4mat
EVOLUTION 7402 4mat CNC cutting and drilling center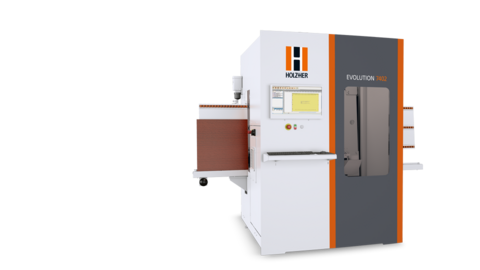 The high performance drilling and formatting center
Quattro-HSK package
Complete Processing
CAMPUS V7 Machine Control
Drilling and cutter unit
Unique Clamping Concept
Detail page EVOLUTION 7402
---
Here is what the HOLZ-HER EVOLUTION series offers