Edgebander ACCURA Series: 100% repetition accuracy and multifunctional
Designed to meet the most stringent requirements in terms of quality and flexibility. The ACCURA series stands for complete processing of modern edging and panel materials. Program selection allows the machine to be set up without even opening the hood, so that it is ready for production immediately. The HOLZ-HER ACCURA series sets the highest, professional standards for edgebanding without compromises.
The new ACCURA series was developed by HOLZ-HER for high quality artisans and industrial parts producers. This modular system provides flexible adaptation to customer requirements and future furniture trends. In developing the ACCURA machining units, the focal point was 100% repetition accuracy, fully automatic and flexible conversion and perfect appearance of the parts produced. In addition to the new servo-axes, this is achieved by use of state-of-the-art, play-free mechanical components.
Modular, multifunctional, maximum performance
Waterproof Invisible Joint
Glu Jet automatic
iTronic for intelligent automation
Intuitive Operation with Touch Screen
Detail page ACCURA 1558
The new top class with superior performance
Waterproof Invisible Joint
Glu Jet automatic
iTronic for intelligent automation
Integrated Multifunction Cutting Technology
Intuitive Operation with Touch Screen
Detail page ACCURA 1556
The compact solution in the high end range
Waterproof Invisible Joint
Glu Jet automatic
iTronic for intelligent automation
Integrated Multifunction Cutting Technology
Intuitive Operation with Touch Screen
Detail page ACCURA 1554
---
Here is what the HOLZ-HER ACCURA offers
Workpiece Thickness up to 60 mm
Edge Thickness up to 20 mm
HOLZ-HER and Zottler: Styrian Connection
The Zottler Cabinet Making Shop in Styrian, Austria, handles all types of classic construction and furniture making work. Their operations depend on machines from HOLZ-HER for universal applications.
[...] As a master cabinet maker, Zottler builds high quality furnishings for residential dwellings, hotels and restaurants as well as complete furnishings for retirement and nursing homes and student dormitories for customers in Austria, Germany and Switzerland. "Recently we just completed 250 kitchens as well as the complete room furnishings for student dormitories in Graz's CoolCity [...] For the team with its 48 employees working like a small industrial mass-production shop in two-shift operation, failure of a machine would be disastrous. During the last 5 years a great deal of time has been spent developing efficient processes and a bundle of money invested in state-of-the-art machines to ensure that these processes run smoothly.
What brought you to HOLZ-HER? Zottler: "After the initial period nearly ten years ago, we were confronted with the decision whether to spend a lot of money to convert the old panel saw or just buy a new one right away. We made a foresighted decision. An existing contact recommended HOLZ-HER. And ever since that time, Zottler has invested regularly in new machines from the plant in Voitsberg, which is only an hour's drive, "because when it comes to our essential machines, we only want one company to contact, who needs to be in the vicinity and offer true Austrian quality." And if things ever get really critical, interjected Peter Gadi, Regional Sales Manager at HOLZ-HER and responsible for the projects at Zottler, we send a service technician to Passail immediately to solve the problem.
The extensive machine park from Holz-Her, now in use at the Zottler Cabinet Making Shop, covers all processing steps for mass-produced furniture, thus ensuring continuous work flow: [...]
High quality furniture with the HOLZ-HER ACCURA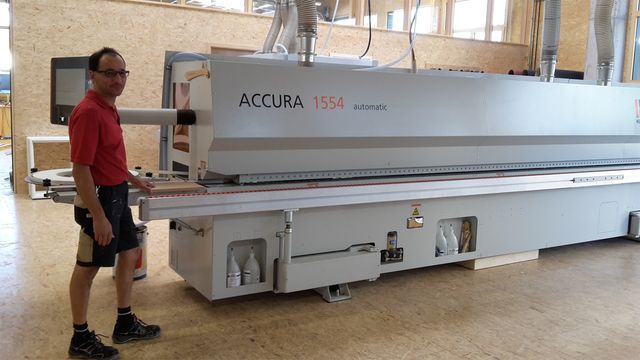 The Kleinhans Company in Kehl has worked with HOLZ-HER machines since the 2002. In January 2016 the company decided to make a further investment to enhance their quality: They invested in an edgebander from the successful ACCURA line.
The Kleinhans Company has been in business for over 50 years and, in the meantime, is being managed by the second generation. The team consists of skilled craftsmen such as carpenters, glazers and window makers with a staff of over 50.
Based on the exceptional skills of its employees, the product line produced by the Kleinhans Company is equally impressive: In addition to windows, doors and kitchen cabinets, the company is specializing more and more in the areas of furniture and interior finishing - true to its motto: "Wood and Design for Quality".
The new ACCURA 1554 edgebander was purchased especially for the areas of interior finishing/furniture. The edgebander uses multi-function technology. The advantages are obvious: The multifunctional package for cutting, corner copying and radius scraping provides a perfect appearance for all normal edgebanding processes. Tool-changing is a completely automatic process with the NC servo-axes and the multi-stage tooling technology. For the Kleinhans Company the ACCURA 1554 guarantees professional edgebanding with all required processing attachments.
The company has already had an opportunity to present the new machine to customers: At their Open House in July 2016, several hundred visitors were anxious to become acquainted with the production facilities at the Kleinhans Company during a personal tour.