CNC Routers: HOLZ-HER CNC Technology, Routers and Machining Centers for unlimited possibilities for panels, solid wood and composite material
Investments in state-of-the-art CNC technology are worthwhile. Even furniture and components with complex designs can be produced economically and precisely. Latest generation control technology, drives and software ensure virtually unlimited possibilities.
HOLZ-HER and Zottler: Styrian Connection
The Zottler Cabinet Making Shop in Styrian, Austria, handles all types of classic construction and furniture making work. Their operations depend on machines from HOLZ-HER for universal applications.
[...] As a master cabinet maker, Zottler builds high quality furnishings for residential dwellings, hotels and restaurants as well as complete furnishings for retirement and nursing homes and student dormitories for customers in Austria, Germany and Switzerland. "Recently we just completed 250 kitchens as well as the complete room furnishings for student dormitories in Graz's CoolCity [...] For the team with its 48 employees working like a small industrial mass-production shop in two-shift operation, failure of a machine would be disastrous. During the last 5 years a great deal of time has been spent developing efficient processes and a bundle of money invested in state-of-the-art machines to ensure that these processes run smoothly.
What brought you to HOLZ-HER? Zottler: "After the initial period nearly ten years ago, we were confronted with the decision whether to spend a lot of money to convert the old panel saw or just buy a new one right away. We made a foresighted decision. An existing contact recommended HOLZ-HER. And ever since that time, Zottler has invested regularly in new machines from the plant in Voitsberg, which is only an hour's drive, "because when it comes to our essential machines, we only want one company to contact, who needs to be in the vicinity and offer true Austrian quality." And if things ever get really critical, interjected Peter Gadi, Regional Sales Manager at HOLZ-HER and responsible for the projects at Zottler, we send a service technician to Passail immediately to solve the problem.
The extensive machine park from Holz-Her, now in use at the Zottler Cabinet Making Shop, covers all processing steps for mass-produced furniture, thus ensuring continuous work flow: [...]
Three heroes – one vision: 5-axis CNC Nesting machining!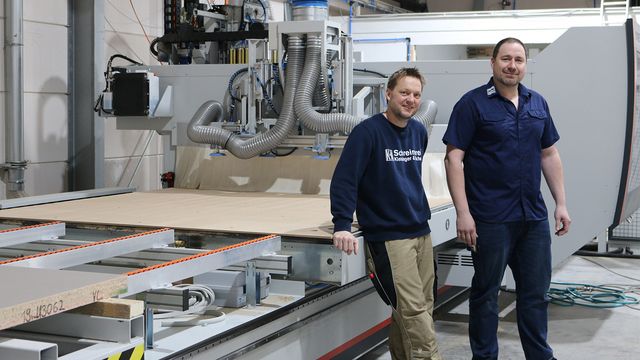 A story with three heroes: Sascha Kleisinger, his best friend Alexander Michel and the new NEXTEC 7735. These two carpenters founded their mutual company, the K&M Carpentry Shop, 17 years ago in a cowshed with 200 sq. meters of floor space.
From the very beginning the common idea was: "We want to build high quality, sophisticated, beautiful furniture." Today the shop is located on a 6,000 sq. meter lot and has 30 employees. The prerequisite for such success stories is creative and rapid reaction to changes in the market. Sascha Kleisinger: "After just a short time, we started making plans to industrialize our carpentry shop, without sacrificing our positioning as a craft shop." This was the time to take the third hero on board. The new NEXTEC 7735 from HOLZ-HER. This ingenious machine concept was the basis for the planned further growth perspectives. As the two carpenters saw their first NEXTEC demonstrations, they knew: That is precisely the CNC technology we were looking for.
On the 15 meter long machine with elevating table and conveyor belt, Sascha Kleisinger and Alexander Michel produce furniture components for regional carpentry shops as capable service providers. For this purpose a 1,000 sq. meter building was rented and a private company established with the name: Rheinhessen-Möbel [Rheinhessen Furniture] "This clearly shows that we are not competitors, but rather partners for our colleagues with fewer machines. But we also want to work for kitchen studios, who are otherwise dependent on the long delivery times in the industry." K&M serves private customers exclusively.
Saws, edgebanders and CNC machining centers from HOLZ-HER were in operation at these successful carpenters from the very beginning. "This was the key to building up a bond of trust in the course of years. Technology, performance and service provide a perfect overall picture for us. This is also why we were confident in putting our full trust in a top machine like the new NEXTEC."