Simple free shaping with storage/nesting combination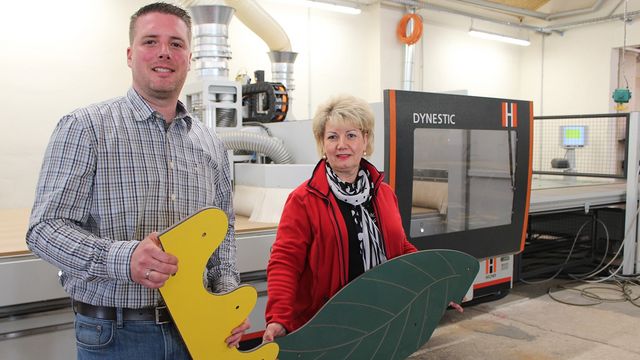 Templates are a thing of the past: Nesting technology is unbeatable for organic and decorative free shaping from panel material. This process with fully automatic panel storage in use at Sauerland Spielgeräte GmbH is truly efficient and ergonomic.
The point is having fun and providing creating play and learning activities, including physical and social activities: Sauerland Spielgeräte GmbH specializes in playground equipment of all types. With nearly 100 employees, this family-owned company in Salzkotten-Niederntudorf develops and produces a highly varied range of equipment to provide fun and enjoyment for small adventurers. This extremely versatile line of products ranges from swings to fanciful play houses for climbing and complete playground landscapes. [...]
Milling, Drilling, Engraving...
In the meantime the nesting/storage combination custom-made by HOLZ-HER to meet the requirements of Sauerland Spielgeräte GmbH provides a fully automatic production process for nearly 1,000 parts with different shapes and designs, all laid out for operation by one person. The complete system consists of the Store Master storage and material handling system with direct connection to the Dynestic 7532 Automatic CNC nesting machine. The process and operator guidance could hardly be simpler: Just use the machine control panel to call the optimized shaped part nest generated in a CAD/CAM system and processing can start. The manipulator moves the appropriate panel on the transfer table to the CNC machine. From here the machine pulls an unmachined panel onto the processing table equipped with an MDF protection panel and uses vacuum to clamp it right through the MDF panel. The machining center then completes all holes, milling operations and engraving on the individual workpieces. [...]