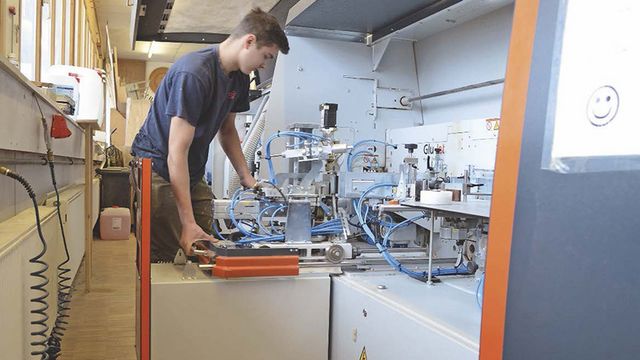 Invisible joints or conventional edgebanding with gluing attachment? The Schmaus carpentry shop relies on invisible joints produced with infrared equipment from HOLZ-HER. If suitable, coated edging is not available, or PUR adhesive is required, they simply change out the attachment.
Daniel Werner at the Schmaus Carpentry shop in Bad Wurzach simply unplugs the "Glu Jet PUR 2K" unit on the HOLZ-HER "Lumina 1598". The attachment is mounted on rails, allowing easy removal on to a hand cart, which is then pushed to a parking place next to the machine, before moving in the same type of cart with a "Ltronic" unit, sliding it into place on the machine and plugging in the power cord. This operation requires a total of three minutes. [...]
The machine is worth its weight in gold.
Philipp Schmaus confirms: "As shopfitters we often have order peaks that keep our Lumina running continuously. For this the heavy 1598 is better than its little sister. It provides excellent edging quality without any subsequent work. Earlier, without the Lumina, we needed one employee just for the final finishing work on the edging. Regardless of whether we work with the Ltronic or the gluing attachment, the quality and efficiency are perfect."