WEINIG UniPin 200: Dowel driving and window-sill gluing in no time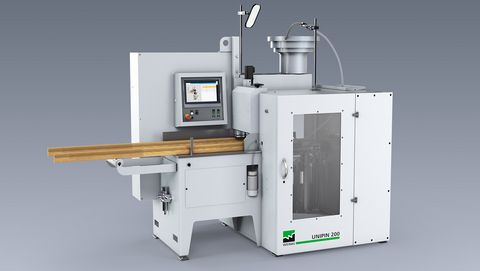 WEINIG is the leading provider of technology for the solid wood processing industry and small businesses. Our unrivaled worldwide coverage, extensive services, cost-effective system solutions and turnkey production facilities make WEINIG the all-round ideal partner when it comes to flexible, profitable production.
With the UniPin 200, WEINIG optimizes your production process and ensures consistent quality of your products. The UniPin 200 can glue work pieces automatically on the front side, drive in dowels and apply adhesive to counter-borings using hand guns. The machine provides 3-axis CNC control with an online connection to the Conturex or an industry software package. The touch panel facilitates machine operation. The electronically dosed gluing and monitored driving depth of the dowels guarantee perfect corner joints. Cleaning costs are kept to a minimum, even after long down times, resulting in a high degree of machine availability.
The WEINIG UniPin 200 will allow you to product doweled window corner joints efficiently.
Prices
x
Different requirements - different prices
The price of a WEINIG machine is just as individual as your requirements are. Therefore, let us discuss briefly what is most important to you – you will then receive our preliminary, non-binding quote.
Personal advice
x
Personal advice – for higher productivity and greater efficiency
Together with your WEINIG expert you will find the ideal machine for your requirements. Simply submit the completed form, and your local WEINIG expert will be happy to discuss all further details with you.
---
The WEINIG UniPin 200 offers you
Sensor monitoring - perfect glue application
Reduced maintenance time and efficiency
Fast gluing and dowel driving in less than 3 seconds per dowel via NC control
Opposite hold gluing with hand gun incl. guide track
The hand gun is used to apply sufficient glue to the opposite drill holes before assembly. The hand gun hangs conveniently from a guide track, ensuring ergonomic and comfortable work for your employees.
---