WEINIG OptiCut S 50+: Universal access to the high-performance class of pushfeed saws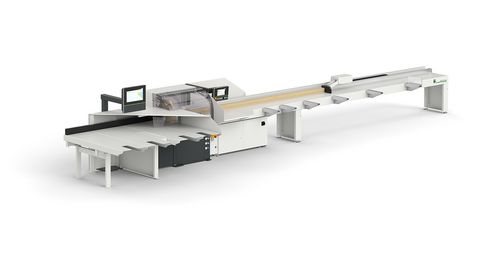 Performance, flexibility and maximum safety:
These features have always been characteristic for the OptiCut S 50. Moreover, the follow-up model of the revolutionary machine design offers universal applications for small and medium-sized companies. The modular design offers a perfect fit to your needs to give you the necessary flexibility for future extensions. This pushfeed saw is the right choice wherever packets or individual boards are cut in large quantities. Thanks to the optimized cutting process you can cut up to four times more than with a manual chop saw. The best thing about it? Your production remains highly efficient combined with a maximum yield. There is a lot of potential for increasing productivity, profit and added value in length cutting.
In addition to solid wood, many other materials can be processed, e.g. synthetics, aluminium or
wood composites and a variety of profile shapes. No problem for the automatic OptiCut S 50+ ! Even inconvenient or heavy pieces can be handled without making time consuming pre-settings.
Prices
x
Different requirements - different prices
The price of a WEINIG machine is just as individual as your requirements are. Therefore, let us discuss briefly what is most important to you – you will then receive our preliminary, non-binding quote.
Personal advice
x
Personal advice – for higher productivity and greater efficiency
Together with your WEINIG expert you will find the ideal machine for your requirements. Simply submit the completed form, and your local WEINIG expert will be happy to discuss all further details with you.
---
The WEINIG OptiCut S 50+ provides
Up to four times higher performance compared to a manual cross-cut saw
Reduced costs per piece due to 1-man-operation
Easily upgradeable towards a complete cutting line
Mainly maintenance-free
Automatic, intelligent waste removal
The encased pushing guidance is particularly long-living, reliable, exact and nearly maintenance-free. The pusher is conducted (run, travelled) via a drive motor which is situated in the machine.
Always the least amount of waste or the highest value. Full optimization not only guarantees the optimum utilization of the raw material but also takes into account the defects and grade marks.