New TECTRA "dynamic" and "lift" versions for high material throughput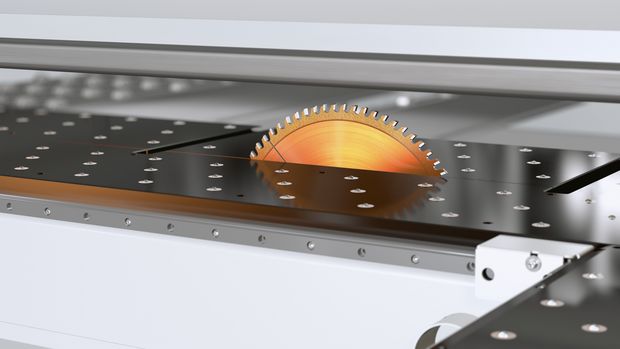 With their 95 mm saw-blade overhang and high-torque 11 and 15 kW motors, both models enable ultra-fast processing with high material throughfeed and when cutting packages. Thus, the TECTRA pressure beam saws impress with optimal integration into existing production processes.
TECTRA 6120 classic – the new mid-range
In the TECTRA 6120 classic pressure beam saw with 82 mm saw-blade overhang, HOLZ-HER offers the ideal cutting package for single panels and cutting smaller packages. With its ideal price-performance ratio and all of the structural features of the larger machines in this series, the model is perfectly positioned for precise cutting. Even the classic version of the 6120 offer precision technology such as polished linear guides and brushless servo drives as well as PLC control of the latest generation.
With their optimal power distribution at the solid saw carriages, all HOLZ-HER pressure beam saws achieve extreme precision as well as optimal cutting results. In addition, the automatic cutting length feature controlled via the optimization software minimizes processing times for all cutting plans.
The TECTRA 6120 and TECTRA 6120 classic are equipped with high-torque 11 kW and 7.5 kW motors as standard. However, speed-controlled 15 kW and 11 kW main motors are available as options for the classic version for package cutting and non-wood applications. Toolless positioning of the scoring saw: the two controlled positioning axles for height and lateral adjustment allow the scoring saw to be adjusted precisely to the main saw blade from the operating panel at the push of a button. This saves valuable time on retooling and guarantees perfect cutting quality.
The bi-directional grooving included as standard is continuously adjustable and saves considerable time during the production of wide grooves and bending panels.
The angle applicator, which operates via a rubber roller, can be controlled in terms of contact pressure depending on the material. This prevents damage and guarantees absolute precision when it comes to angles.
For the TECTRA 6120 power, dynamic and lift, an optional double pressure roller upstream and downstream of the saw line is also available.
Besides the mechanical precision, the TECTRA pressure beam saw series also impresses with extensive standard equipment, including EASYPLAN optimization.
For perfect optimization and data transfer in the office, the OPTI-BASE or OPTI-PRO software can also be selected where required. Advanced interfaces with intelligent storage and charging systems as well as uncomplicated data transfer from third-party and industry software also provide the security of a future-proof investment.
All of the benefits of OPTI-PRO software
The "all-inclusive" cutting software package
OPTI-PRO office software for HOLZ-HER pressure beam saws in the TECTRA and ZENTREX series offers everything you need for efficient panel cutting and manageable material handling.
Integrated CSV interface with
ERP and industry software
Perfect material and
offcut management
Material-based
optimization levels
Pre-calculation with time,
material and edge consumption
Graphic display of all
cutting plans and processing
User-friendly
material flow management
For further details, visit holzher.de