WEINIG management gets a picture of the status of the installation at Brown Forman Cooperage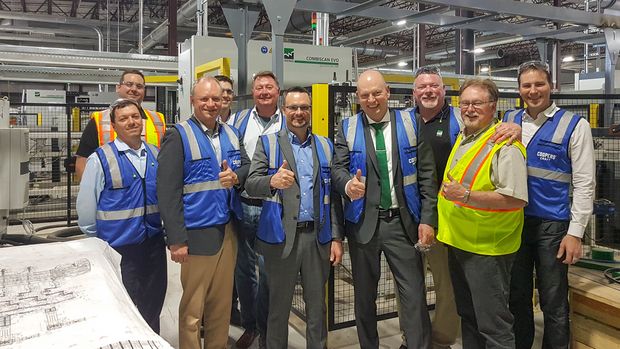 CEO Gregor Baumbusch was impressed by the components already installed and the dimensions of the overall system, which were already clearly visible. This is the largest single order in the company's history and was completed at the beginning of last year. Larry Combs, Senior Vice President, General Manager Jack Daniel's Supply Chain, emphasized above all the adherence to delivery dates of WEINIG, which is not a matter of course for a project of this size. "What we are realizing with WEINIG is a revolution for us. WEINIG is exactly the right partner for this project and we have full confidence in all those involved in the project".
"The cooperation with Larry and his project team is excellent. We all have the same goal, which we work towards in an extremely professional and cooperative manner. I am very proud of the performance of the employees from Germany and the USA, who are working with passion on the successful implementation of this complex project," added Gregor Baumbusch, after he had obtained detailed information from the installation team from TBB.
A highlight of the visit was a first test with material in the first transfer area, which ran smoothly.
"We are on the right track, all components were delivered on time. But there's still a lot of work and challenges ahead," says Dale Mason of Brown Forman Cooperage, who is responsible for operational project management on the customer side.
WEINIG will install the most modern and efficient system solution for the production of barrel staves and heads. The focus here is in particular on a significant increase in yield and a high degree of automation without having to forego flexibility.
"This plant is a milestone for WEINIG USA. We would like to thank Jason Neafus from our representative Hoosier Woodworking for the extraordinarily successful customer service that made this order possible and Bret Hopper, our National Systems Solutions Engineer who came up with the line design and layout," added Jason Howell, President WEINIG USA.