The Power Of Change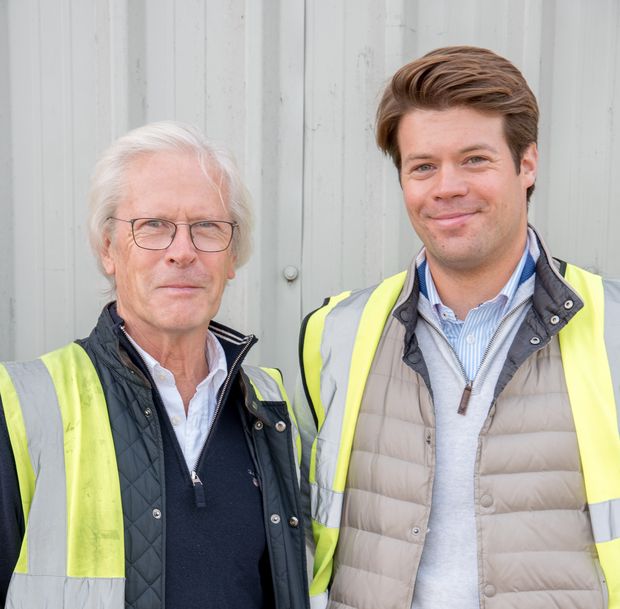 Robert Blumsom isn't afraid of change. In a market that has seen independent timber mills become engulfed by nationwide timber merchants, Blumsom Timber Centre has grown and diversified, whilst maintaining the core values etched into the company's 124-year history. Its dedication to its customers, its unique service-based business model and the unwavering importance placed on innovation has led the Barking-based company to embark on a 30-year relationship with German machinery manufacturer, Weinig, that's as firm today as it was then.
"We've never been a company that stands still," begins Robert Blumsom, Chairman of Blumsom Timber Centre and founder of Blumsom Custom Milling. "In 1980, I was the fourth generation to run the family business. I could see a need to expand our operation if we wanted to do more than just thrive in an extremely competitive market. Peers called me crazy for opening an on-site mill – which in turn has seen us become a secure part of the supply chain in the south – and my decision to work with FSC timber before it became an industry standard was questioned by many. But I knew that I needed to invest in the company's future and I knew I needed Blumsom's offering to be different."
Investment came in the form of an advanced on-site machining facility that could offer a quick turn-around time and no minimum order quantity on solid wood and MDF mouldings. "To provide this service, we needed the best moulders on the market and Weinig was the only manufacturer that could supply us with the kit we needed," admits Robert. "We haven't looked back and as a result, over time, we've been able to reduce labour costs by 35% and process three times as many timber mouldings on half the number of machines."
More recently, the company has undergone a £1million invest project that has seen the full renovation of its workshop and storage facilities and the introduction of a brand new Weinig P1500 moulder – the first of its kind in the UK – designed to streamline production, secure short lead times and increase machining efficiencies.
"We knew we needed a highly specified machine to fit into our manufacturing process and Weinig delivered. We were already running two Powermat moulders to create standard hardwood profiles – including architraves, door frames, door stops and lippings – and non-standard profiles specified by architects. But we lacked flexibility when it came to working from cuttings lists with multiple-sized components. Our processes weren't cost effective and at times, we would outsource jobs, reducing our margins further."
To overcome this, the new Powermat 1500 was built with a universal head and a second right head that can be inclined to 45˚ – a unique offering created for the long-standing timber specialist. These options gave Blumsom the extra flexibility they needed and reduced the number of tools required. The added 310mm width capacity and variable speed of 4-12,000 rpm (controlled through the Powercom system) also lent itself to broader production capabilities and in turn, future-proofed the investment.
"The universal head has stopped us having to take projects off site, especially door frames with 3D groove positions on the bottom, side and top which we can now machine effectively ourselves," says Robert. "This shortens the supply chain, gives us complete control over our production and ultimately, reduces costs. The moulder's quick set-up time, ability to switch from short to long runs and its capacity to adjust PAR from one size to another without us having to turn off the machine, has also reduced downtime and positively impacted on our own lead times, whilst its production accuracy means we can ensure a high quality product every time.
"Many of our competitors have a standard 14-day lead time but because we can now control the entire process, our customers know their order can be with them in five to seven days. We've even been able to complete an order in less than three days for a customer who was up against it. That's the beauty of an independent – we are not answerable to anyone and go the extra mile. If it came down to price and price alone, people would simply endure a long 14-day lead times from a nationwide depot but our customers expect more than that. Their livelihoods depend on it."
Robert adds, "We are so proud of our history and what we have achieved. My son, Freddie, has recently taken on the role of Chairman and he too has the foresight to invest in innovation – this is why we've been steaming ahead with our £1million investment programme. We know the industry will change and we know we'll have to change our processes to remain relevant but like all things, change offers opportunities.
"Looking back, as soon as I could afford to buy new machinery, I bought the very best on the market. Did the company need it? Not at the time - we could have settled for a lesser model – but are we better off for it now? Absolutely. Weinig's machinery and technology has helped us stay ahead of the curve and I can honestly say that without them, we wouldn't have a business today. Here's to the next 124 years…"
For more information on Weinig and its Powermat range please visit www.weinig.co.uk.