Weinig UK Launches Brand New Webshop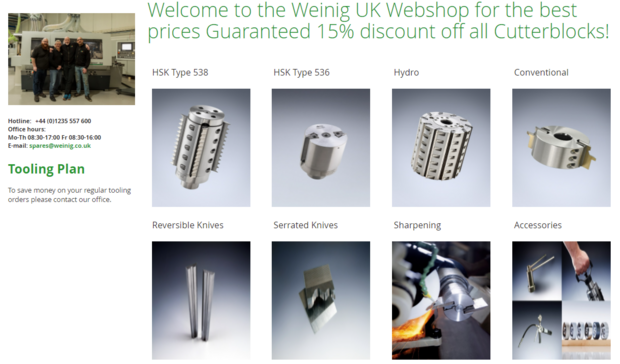 Leading German machinery manufacturer, Weinig UK, has launched a brand new webshop. Part of Weinig's growing online support package, the webshop offers customers a quick and convenient way to order spare parts, tools and accessories for their Weinig machinery.
The 24/7 online ordering system, which is quick and easy to sign-up to, offers customers complete flexibility. Users can navigate their way through a comprehensive catalogue of products and, as part of the Weinig price promise, online users are guaranteed the very best price on all Weinig consumables, plus an extra 15% off all cutter blocks when ordered online.
Users can also take advantage of the very latest promotional offers, detailed product information, full price lists and order tracking. Plus, with Weinig's dedicated spare parts team on hand to help you with any questions or queries you may have, you can have complete peace of mind that Weinig are with you every step of the way.
Malcolm Cuthbertson, Managing Director of Michael Weinig (UK) Ltd adds, "The launch of our brand new webshop is an important milestone for Weinig UK. Over the last 12 months, we've been pushing forward with our range of free online support services to help our customers continue to work efficiently during these challenging times. The launch of our brand new, easy-to-use webshop not only offers our customers even more flexibility when it comes to ordering spare parts, it also guarantees the very best price on all our Weinig consumables. Customers can even sign up to an online tooling plan, designed to save time and money on regular tooling orders and create personalised watch lists for simple, repeatable product selection. But we also understand that sometimes, you really do need to talk to someone. That's why our spare parts division is still available to contact over the phone and on hand to help."
To register for Weinig's webshop simply visit https://shop.weinig.com.