When Only the Best is Good Enough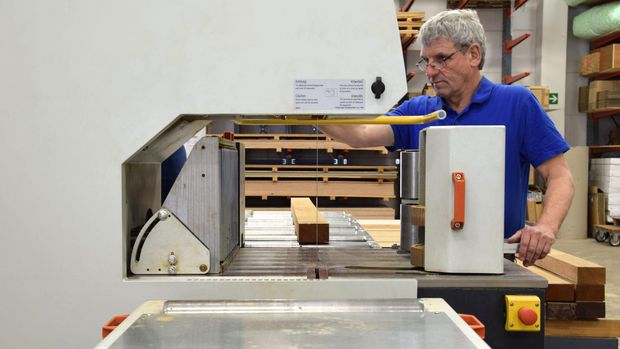 "We have a total of 1500 articles for boat and shipbuilding in our portfolio," reports authorized representative Jörg Braatz: "We produce finely veneered boatbuilding plywood and planed lumber, among other things. In addition, we deal in round timber, logs, sawn timber and solid wood for maritime applications." The business model is exclusiveness. Preferred woods include khaya mahogany, sipo, sapele, teak, Oregon pine, spruce, oak, ash, cherry and other species as per customer requirements. "A total of 18 employees ensure that our customers' yachts look great on all the seven seas," says Braatz, who has been employed at Sommerfeld + Thiele for 42 years - virtually his entire professional life to date. "We want to be a reliable partner for boat builders. To ensure that it stays that way and that we can offer competitive prices, we have invested in the future time and again since the company was founded," says the authorized representative, explaining the company's philosophy.
And that is just what they are doing now: just recently, a VarioSplit 900 from Weinig was moved into the production hall. "With the new band resaw, we were able to expand our production," says production manager Jürgen Kakuschke, who is very enthusiastic about the new asset. Given the valuable raw material, he sees the biggest advantage in waste optimization. "This is noticeable, for example, in sawn veneers with a thickness of just four millimeters," says Kakuschke. The saw cut is about two millimeters and, in addition, it is now possible to cut widths of up to 350 millimeters. "As a side effect, we have also reduced machine times with the VarioSplit," says the production manager happily.
This is no coincidence but is due to the development work of the specialists at Weinig. "With the VarioSplit 900, we actually have very narrow kerfs, combined with the best possible dimensional accuracy," says product manager Sven Niedermüller: "Since the customer processes different hardwoods, we carried out some cutting tests in advance at our showroom in order to also find the right band saw blade with a correspondingly long service life. By discussing constructive aspects, we found not only the right machine but also the right band saw blade for the customer's requirements," says the expert. The machine is also suitable for many other applications. The VarioSplit 900 can be used very flexibly thanks to its feed rate of five to 40 meters per minute and the integrated bevel-cut device for angles of up to 45 degrees.
For the wood experts at Sommerfeld + Thiele, the VarioSplit 900 is not the first machine from Weinig. Currently, a Unimat profiling machine for planed material and a VarioRip for ripping are also providing reliable service in production. "We have been working with the machines from Tauberbischofsheim for more than 30 years, we have had a lot of positive experience, and the price-performance ratio is also right," says Braatz. This means that Sommerfeld + Thiele's large warehouse will always remain well stocked, because delivery capability is another key aspect in the company philosophy of the specialists from northern Germany.