Holz-Her presents the POWER-PIN 7605!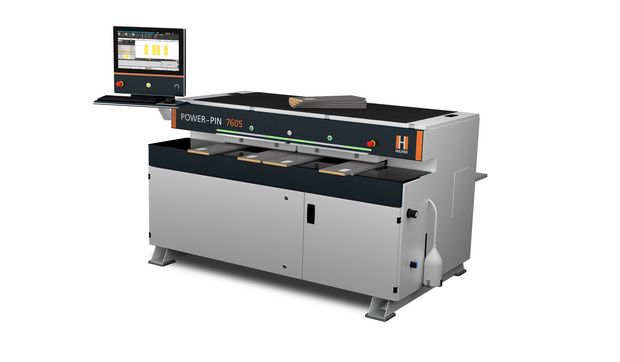 With the new Power-Pin 7605, Holz-Her has introduced a compact drilling and dowel inserting machine that makes just that possible. In the future, operators will be able to drive in wooden dowels fully automatically, thus ideally complementing nesting. Manual driving in of the dowels after CNC machining is completely eliminated, which not only saves time but also increases process reliability. Users can choose between a "classic" or "dynamic" version. Both machines feature innovative technology, intuitive operation and a compact design. While the pressure bars of the Power-Pin classic have to be manually adjusted to the material thickness, this is done fully automatically and program-controlled in the dynamic version. In addition, in the "dynamic" version, the drilling depth and the Z-height of the holes are approached by servo motors. Options such as the practical VISE LED position display and additional horizontal drills are also available for the dynamic version.
With the Power-Pin 7605, users can drive in both pre-coated dowels and standard wood dowels with D1 glue (viscosity 150 - 350 mPa.s.). With the optional second step feeder, the changeover from 6-mm to 8-mm dowels is also completed in a matter of minutes. The dowel lengths that can be processed are 30 mm, 35 mm and 40 mm. The large-area support table enables multi-area loading, so that several workpieces can be processed efficiently side by side, and the intuitive clamping concept ensures that the workpieces can be
and the intuitive clamping concept ensures safe and fast loading and unloading. We offer several automation levels to choose from.
Compact in every respect. All aggregates and storage containers are fully integrated in the machine. With a footprint of just 4 m³ and an extremely low overall height of 1755 mm*, the Power-Pin fits into any workshop. In addition, the machine lid provides a practical storage place for workpieces to be produced - at a back-friendly height of 1215 mm. Depending on the material flow, the Power-Pin can stand freely in the room or be placed against the wall.