Weinig to display tomorrow's world of production at Holz-Handwerk
03/20/2018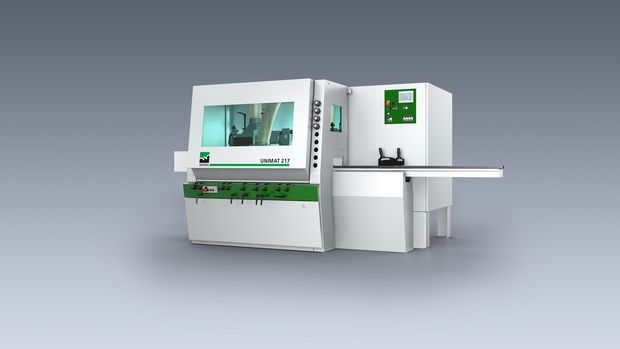 Live demos will make the significant customer benefits of the production technology palpable for stand visitors.
Think Weinig: High added value guaranteed
Weinig's USPs include sector knowledge accumulated over many years and an extensive portfolio of state-of-the-art technology across the entire value chain. This potential allows Weinig partners to extract maximum customer benefits and decisive competitive advantages. THINK WEINIG brings these benefits together under a catchy slogan and is the key to optimal use of this potential. Chief Sales and Marketing Officer Gregor Baumbusch: "Our message in Nuremberg is: No matter what problems customers have to deal with, Weinig is always their first point of contact."
Entering the future of production with W4.0 digital and MindSphere
Weinig is setting standards in the world of networked production. At Holz-Handwerk, Weinig will display the current state of developments. The technical basis is Weinig's in-house standard W4.0 digital, which will be expanded and gradually rolled out across the entire product range. Now, our membership of MindSphere World adds a further dimension. The user organization is a melting pot of synergies that will optimally benefit Weinig customers. As a Weinig partner, you will be able to access the benefits of the powerful cloud-based Siemens platform MindSphere going forward. MindSphere will be a worldwide technology partner when it comes to live data from the machine. Dr. Mario Kordt, Weinig's representative on the MindSphere World advisory board: "With the combination of W4.0 digital and MindSphere, the customer is "backing the right horse". The MindSphere technology makes customers' production more future-proof, even if they have not currently advanced very far in the digitization process."
Experience W4.0 digital in Nuremberg
At Holz-Handwerk, Weinig will open its "digital window to the machine fleet" to stand visitors for the first time. The maintenance and alarm monitor will be used to demonstrate the potential of W4.0 digital in conjunction with the MindSphere IoT solution. One pioneering development in this area is the WEINIG App Suite. Four new applications have been integrated in time for Holz-Handwerk. The central themes are productivity and maintenance for the purpose of greater machine availability. This includes analysis and evaluation of production data as well as predictive maintenance. A particularly valuable feature for customers is the cockpit, which will be optimized for the individual requirements and most important processes of the user.
A valuable tool for predictive maintenance is the new Weinig spindle temperature monitoring. Violations of threshold values are reported via the touch screen and, if the temperature continues to increase, the spindles and feed are automatically switched off. This allows damage to be identified early, minimizing downtimes.
Weinig digital world of windows
Weinig will demonstrate its outstanding expertise in modern window production in Nuremberg from the entry-level segment to the Smart Factory. On the Conturex Compact, the new WMC (Weinig machine control) will celebrate its premiere. In the particularly user-friendly user interface, Weinig is setting standards in the lowest performance category in terms of handling and production safety. In the virtual tour of Weinig Solid WF, stand visitors will have the opportunity to look inside a Conturex system with the highest level of equipment using 3D glasses. Cutting-edge technology, integrated production and networking in the Weinig W 4.0 digital standard will come together in the "virtual reality corner" to provide a spectacular experience.
World premiere for the Unimat 217
In the Unimat 217, Weinig presents a compact four-sider in Nuremberg that is particularly interesting for small businesses. This is demonstrated, above all, by the favorable price-performance ratio. The high level of user-friendliness elevates the machine significantly above comparable models in this performance category. The Unimat 217 is highly accessible for set-up and requires only a few operating tools. The integrated memory system enables the storage of profile settings and ensures precise reproducibility. The spindle speed of 7,000 rpm guarantees outstanding surface quality combined with high productivity.
Improved efficiency for small operations in terms of cutting and gluing
The Weinig Group brings together world-leading specialists in ripping, cross-cutting and gluing. In Nuremberg, visitors will be able to witness a cross-section of our extensive offering. Highlights include the OptiCut S 260 throughfeed cross-cut saw with a feed speed of up to 250 m/min and camera-based detection of three qualities. The OptiPal + OptiResult software package offers a range of functions from product and parts list management, order entry and cutting list creation, pre-optimization of cutting lists for optimal yield and creation of picking lists to screen-supported machine operation and parts identification after cutting. All of these functions make cutting more efficient from single-item batches upwards. Another exhibit on the stand will be the EasyStop automatic positioning system for the OptiCut C series as an optimal entry to automating manual processes for smaller operations. The system can also be integrated into existing cross-cut saws. Making its trade fair premiere, the new ProfiPress L B gluing press combines all of Weinig's know-how in high-frequency gluing and press technology in a single machine. The machine offers an unprecedented range of applications from panels to scantlings and significantly simplifies production. The ProfiPress L B is available from a manual system to a fully automated production line.
Photos:
Photos can be downloaded from the Weinig website in print quality at www.weinig.com/en/weinig-group/press-portal/press-photos.html.