Weinig InTech 2018: Three days of solid wood processing in action
10/18/2018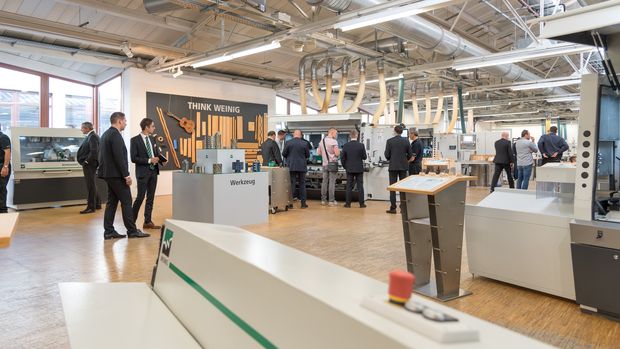 Under the motto THINK WEINIG, the market leader is presenting an attractive combination of cutting-edge technology that can be experienced up close and brand-new industry information in Tauberbischofsheim. Guests from all over the world are expected at the three-day live show for machines, systems and system technology.
Distributed across several locations on over 3,000 m2, more than 40 innovative solutions across the entire value chain are on display for professional visitors. InTech 2018 also has a world premiere to offer: The new Powermat 3000 is the essence of the continuous technical innovation that has made Weinig moulders the most successful in the world. Its possible applications range from simple 4-sided planing to structured surfaces and soon even to contour milling. Precisely matched to the application, it achieves first-class surface quality both at low feed speeds and high feed speeds of up to 100 m/min. With the modularly designed "all-rounder" it is always possible to design the process economically.
In addition to its core competence in planing and profiling, Weinig occupies an outstanding position in the production technology for wood and wood/aluminium windows. InTech is particularly focused on networked window production. All current window corner joints and the latest window systems will be demonstrated live on various Conturex models. Additionally, customers can inform themselves about current trends from the window market. This comprises topics in the field of material combinations such as wood/aluminium, wood/wood, interior/exterior colour combinations, blocking and glass bonding in wooden windows. With the help of VR animation technology, a Weinig High Performance Window Line becomes a 3-D experience.
WEINIG is enjoying growing market shares in pallet production with its cutting solutions. One of these successful concepts can be seen at InTech. The system will be delivered to Perusch Paletten in Austria following the in-house exhibition. One of the central components is an OptiCut S90 Speed. The fast push-feed saw is equipped with a diagonal chain feeding system with extended infeed chains. It is designed for cross-sections up to 300 x 100 mm. The machine includes an automatic waste chute. For sorting there is an output for special lengths and orders as well as two pusher stations. The system also has an inkjet printer for part identification. The simple processing of orders is guaranteed by the OptiPal packaging software. A robotic concept for stacking the workpiece packages is integrated into the overall system. The system is designed for a production of up to 1.4 million pallets per year!
Weinig's competence for large-scale systems is increasingly in demand on the market. Against this background, the "Automation & Digital Business" unit was recently integrated into Weinig Concept GmbH. It brings together the entire expertise of the Weinig Group. One of the showcase projects is the system currently under construction for American whiskey producer Brown-Forman. A special Powermat 2400 will be shown as an essential part of the system, which is designed for a daily production of 3,000 barrels.
The "Automation & Digital Business" unit also includes the InTech focus "Process Design". ODC data from various machines are retrieved and visualized in an IT cockpit. Mobile systems on the machine, such as the Weinig App Suite, play a central role in this, and its latest version offers even more possibilities.
Top-class lectures have always been a special hallmark of InTech. For this year's edition of the in-house exhibition, excellent speakers on topics of relevance to the future of the industry could once again be won over.
Professor Gerhard Schickhofer from the Institute of Timber Engineering and Wood Technology at Graz University of Technology will provide information on building with cross laminated timber. The focus is on the use of engineered wood in modern architecture and design, modern timber construction and its possibilities in the future, as well as latest developments in CLT standardization.
In a second lecture, the managing director of Max Wehrle Fensterbau GmbH, Maximilian Wehrle, will focus on the topic "Machine monitoring in small businesses". In his talk, he will present the various possibilities and report on his own practical experience.
The third presentation is entitled "Value creation in the future - opportunities and examples". Dipl.-Ing. Martin Schleef, Head of business unit Machinery and Equipment Industry, Fraunhofer Institute for Manufacturing Engineering and Automation IPA, will provide an overview of the main stages in digitization and automation and will outline the current global situation. He will also present examples from industrial practice and give useful tips for interested companies.
Photos:
see presse.weinig.com (German) or press.weinig.com (other languages)