InTech 2018: Weinig sets course for Hanover with innovations
10/22/2018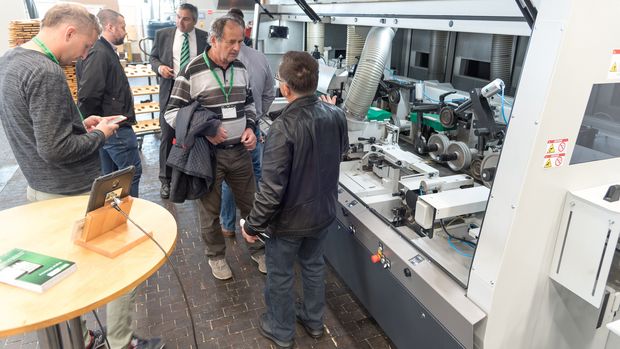 With two world premieres and many further developments, the world market leader for solid wood processing gave a highly impressive preview in Tauberbischofsheim. "In Hanover, we will make another big leap with further innovations in all product areas," promised CEO Wolfgang Pöschl to over 30 trade journalists who attended the traditional Weinig press conference on the day before InTech.
Automation and digitization were the main topics of the in-house exhibition. Technically, an IT cockpit demonstrated the company's rapid expansion of its Central System Control technology. "The roll-out of this competence to the entire Group is progressing rapidly," says Gregor Baumbusch, Chief Sales and Marketing Officer. In organizational terms, Weinig is further strengthening the newly created "Automation & Digital Business" unit through personnel and integrative measures.
In the field of planing and profiling, the 1000 visitors from 35 countries were able to experience the new Powermat 3000 for the first time at InTech. The machine sets standards with its ease of operation, new jointing technology and monitoring connectivity. The launch of the Powermat 700 Blackline at InTech also marked the start of an attractive, limited special edition. The particularly well-equipped machine is intended above all to convince customers who have not yet been able to decide to convert their production to the current Weinig generation.
A world novelty that has received much attention at InTech comes from the product unit Windows. The Conturex Artis is positioned below the previous Compact entry-level model, but has added technical value. The "RePos easy" extension system for the Powergrip clamping table, for which a patent has been filed, is outstanding in this respect. "A flexible, high-performance machine for smaller companies as an answer to the consolidation process in the window market," said Karlheinz Moldan, head of the product unit Windows, at the press conference. Another Conturex evolution stage will be presented at LIGNA 2019.
In addition to a total of 40 exhibits, the growing Weinig project business was particularly in the spotlight of the audience. Several examples of system solutions were shown, including the component of a complex barrel stave system and the cutting area of a parquet production line with robot integration. Representing Weinig's expertise in timber construction was a CLT system for the production of lamellae.
A program of lectures that changed daily rounded off the range of products presented at InTech.
The mix of live demos and practice-oriented information once again convinced the expert visitors in 2018. A satisfied Wolfgang Pöschl saw the concept of InTech confirmed: "The heart of solid wood processing beats in Tauberbischofsheim," said the CEO.
Photo:
Plenty of innovations at InTech: The new Powermat 3000 was one of the attractions of the international Weinig in-house exhibition.