CombiScan Sense from Luxscan Weinig: Wood optimization with artificial intelligence
07/02/2019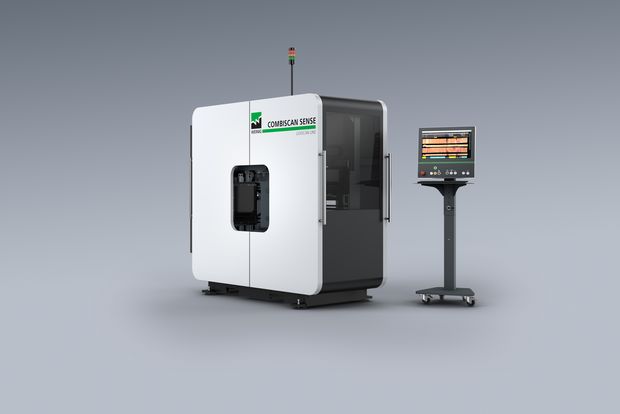 The Weinig LuxscanLine scanners are known worldwide for their reliability, accuracy and flexibility. With the new CombiScan Sense the Luxembourgish scanner specialist has set new benchmarks in four side wood defect detection at LIGNA in Hannover. This scanner series is based on a single platform, adapted for all applications in solid wood manufacturing. By adding various software modules and optional sensors to the base model, you can extend the scanner to the ideal optimizing machine. The CombiScan Sense can be combined with various WEINIG machines for cross-cutting, ripping and sorting.
The new scanner features the powerful OptiCore AI Software. The newest generation of the software uses a new image processing method based on Deep Learning, a class of Neural Networks from the field of AI, to automatically analyse and identify wood defects. This results in a higher detection accuracy, improved detection repeatability with changing wood characteristics and reduced set-up time. Based on the exact board data obtained during image processing, OptiCore allows programming multiple qualities and zones tailored to your final product requirements. This means that almost all customer requirements can be taken into account and almost any type of end product can be manufactured.
The quality of the sensor technology is the key to efficient scanning. Not only does the CombiScan Sense have faster cameras for better length resolution, but its high-resolution cameras also provide excellent width resolution, which ensures optimal detection of all kinds wood characteristics, including 3D surface defects. Our well-known dual scatter solution consisting of one line and one dot laser remains. This enables a highly accurate fibre analysis and ensures an optimal cutting position, as it is required especially in fingerjoint applications.
The CombiScan Sense uses 4 specially positioned lasers to detect flat, non-vertical cracks. This so-called Angle Crack Module (ACM) provides crucial additional information for the detection of wood defects that are difficult to identify.
The X-ray add-on features a completely redesigned low-power X-ray unit, which means that separate cooling is no longer necessary. The X-ray sensor identifies defects based on density differences. This option is not only useful for rough or dirty surfaces, but also for wood species with large colour variations. It can be used for density measurement and strength grading.
Due to the advanced frame structure of the new CombiScan Sense, both the X-ray sensor and the Roughness+ sensor for unplanned areas can be combined for all-in-one scanning solution. In addition, the improved random width module can run up to 60 boards per minute. The optional, automatic camera positioning ensures maximum quality even in high-end applications and reduces operating errors to a minimum.
The new CombiScan Sense can be effectively integrated into lines for various wood applications. The range of applications extends from combining the scanner with a cross-cut saw or a rip saw to a complex production line with several scanners. A pre-configured model variant is available for cutting, ripping and sorting. Designed as a modular system, the Weinig LuxscanLine scanner can be adapted to changing requirements at any time by exchanging or adding sensors.
Fotos:
1) New Weinig LuxscanLine CombiScan Sense: high-end scanner for various applications
2) Higher detection accuracy: the new OptiCore AI software uses Deep Learning for better results
3) Wide range of applications: the CombiScan Sense can be effectively integrated into complex lines. Here a Weinig System Solution including a moulder, scanner, cross-cut saw and fingerjoint.