The new ZENTREX 6220 and ZENTREX 6220 Classic panel cutting saws
05/10/2015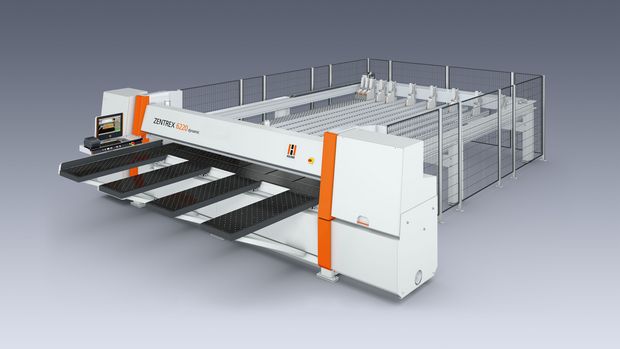 The ZENTREX 6220 offers the latest precision technology with ground linear guides and brushless servo-drives as well as state-of-the-art PLC control. Thanks to the extremely high feed rates up to 150 m/min on the sawing carriage and the steep acceleration ramps, the new HOLZ-HER panel cutting saw ZENTREX achieves an extremely high level of precision and the shortest cycle times. In addition, the automatic cutting length system controlled via the optimization software minimizes the processing times of all cutting patterns.
Powerful with up to 25 kW Motor Power
The ZENTREX 6220 Classic is available in its standard version with a powerful 15 kW motor, optionally for stack cutting and non-wood applications with 18 kW, or with an infinitely variably controlled 21 kW primary motor. The larger ZENTREX 6220 is to be launched with 18 kW motor output and can be configured up to 25 kW. Due to its patent-pending technology, the primary motor remains in the same position during all of the cutting cycles and only the saw blade is precisely and rapidly raised into the cutting position by the use of servo-controls.
Prescoring Saw with Positions Memory
The position-related data of the prescoring saw of the ZENTREX model can be stored in the memory of the software and can be repositioned precisely both for the height and sideways positioning via the two servo-controlled positioning axes. Valuable time in changing over is saved in this way and a perfectly cut product is guaranteed. The bi-directional grooving unit is infinitely variably adjustable for groove depths from 105 up to 130 mm and contributes considerably to the saving of time in the production of wider grooves and bending panels.
Pre-positioning Angle Pressing Unit
The material conserving angle pressing unit is preset in position for short cycle times by the software. The pressure force of the rubber coated roller can thus - depending on the material - be entered in the control system. A double angle pressing unit with two rubber rollers is also available as an option and this precisely applies pressure at an angle on the strips in the cross-section in front of and in the back of the sawing line.