New "Edge Control Touch" for HOLZ-HER Edgebanders
05/11/2015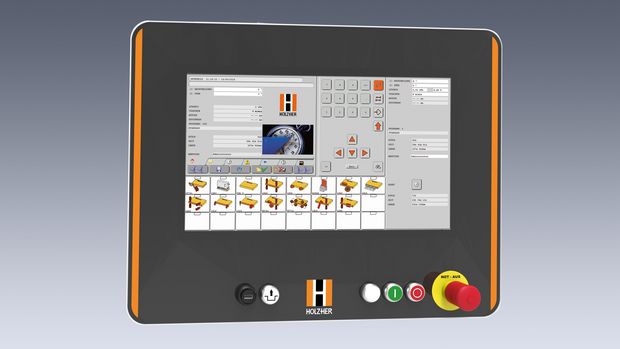 The newly designed 18.5 inch touch screen with 16:9 format is based on design trends for popular tablet computers. The screen provides brilliant graphic depiction of all machining processes and is exemplary in terms of ergonomics and simple operation. Among other things, two ingenious joints allow the screen to be pivoted a total of 180 degrees as well as tilted precisely to the desired position.
The high performance, industrial computer with Linux operating system meets the highest standards to ensure it will be ready for tomorrow's requirements. It includes a network connection, external USB port and barcode interface for operation in networked machine environments.
Naturally, simple online maintenance is possible with the HOLZ-HER Service Department as well as custom user management with password protection and individual authorization.
All relevant operating data is captured continuously and automatically and the control can be upgraded to include the optional HOLZ-HER process data capture feature (HHPDE) for direct readout of network operating data.
A highlight is the edging database for laser edging completely integrated into the control on the Lumina edgebanders. All the very latest co-extruded and subsequently coated types of edging are already stored at the factory for simple selection by the user. Each type of laser edging requires a specific amount of energy depending on factors such as edge thickness and color. After selection, the control on the LTRONIC laser edging unit automatically sets the energy as required.