CNC machines PRO-MASTER 72 series: Master extreme machining dimensions in wood machining with confidence
Step up to the next generation of CNC machining with the 72 PRO-MASTER series from HOLZ-HER. The 72 series CNC machining centers are distinguished particularly by their extreme machining dimensions and perfect cutting results as well as high material removal rates.
Generous machining dimensions for the console table with up to 7,200 mm in the X direction and 1,600 mm in the Y direction as well as a Z stroke of 565 mm provide for highly variable, custom machining on the 72 series CNC machines.
The 72 series is completed by a versatile and comprehensive range of optional equipment to satisfy all desires, allowing each CNC machining center to be configured optimally for applications in the fields of furniture production, staircase construction and model making as well as machining solid wood.
The 4-axis PRO-MASTER 7222 and the 5-axis PRO-MASTER 7225 have an enormous machining capacity with effective machining height of 300 mm - from the top of the suction cups.

CNC PRO-MASTER 7225 Black Matrix machining center
Excellent machining results with 5 interpolating axes
Full Interpolating 5-Axis Head
Multifunction Machining Head
Highly Flexible Table Concepts
Tool changer for variable machining
Extreme Acceleration Values
Detail page PRO-MASTER 7225 Black Matrix
CNC machining center PRO-MASTER 7225
The power package with leading 5-axis technology
Full Interpolating 5-Axis Head
Multifunction Machining Head
Highly Flexible Table Concepts
Tool Changer for Variable Machining
Extreme Acceleration Values
Detail page PRO-MASTER 7225
CNC machining center PRO-MASTER 7222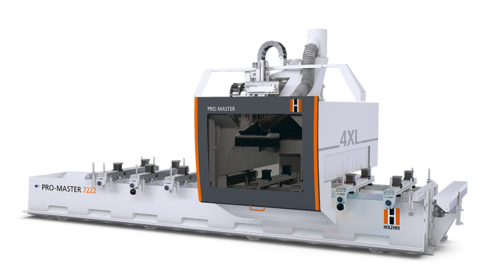 Powerful high end CNC with 3 or 4 axes
Powerful Cutting Spindles
Multifunction Machining Head
Highly Flexible Table Concepts
Tool Changer for Variable Machining
Extreme Acceleration Values
Detail page PRO-MASTER 7222
---
Here is what the HOLZ-HER 72 series offers
Made to measure right down to the last detail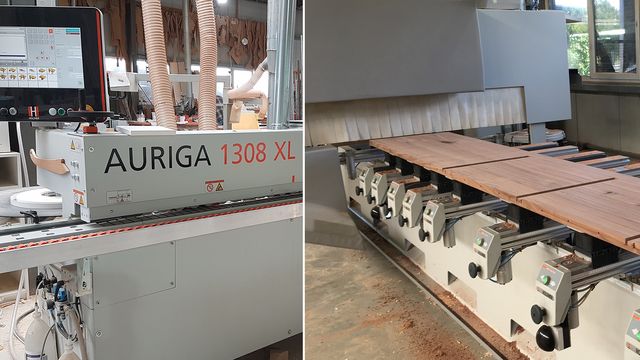 The Company "Massivholz-Möbel GmbH Riedinger" [Riedinger Solid Wood Furniture] in Bühl produces high quality, solid wood furniture to meet the desires and ideas of their customers. The company uses a number of various machines from HOLZ-HER. These include the AURIGA 1308XL edgebander as well as a 5-axis PRO-MASTER 7225 CNC machining center for production of furniture at the Riedinger Company.
The AURIGA 1308XL offers compact, but still extremely efficient, complete processing for edging with three finishing attachments. The PRO-MASTER 7225 CNC machining center offers the company innovative machine design with a range of performance including five interpolating axes to meet all production requirements.
Custom work right down to the smallest detail – with the HOLZ-HER machines now in use, this is more than just a motto for the Riedinger Company.
Professional brand presentation for professional machines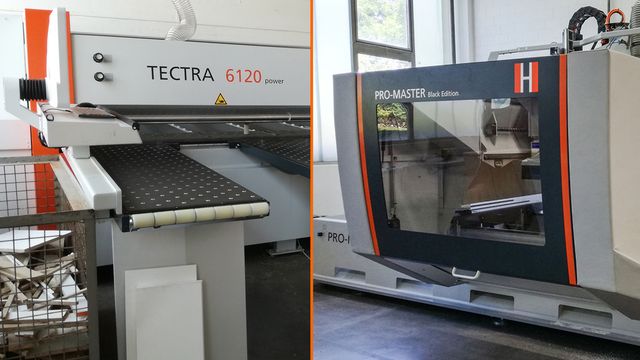 The ARNO Company with headquarters in Wolfschlugen, near Stuttgart, provides for brand presentation at the point of sale – aesthetic, discerning, attractive and efficient. Over 80 years of experience and more than 250 dedicated employees worldwide make this company an expert for all branches in all store, shop in shop, display and digital areas. The complete range includes design, value engineering, construction and production right on up to logistics and installation. The company coordinates complex international projects of all sizes for multinational brands and commercial enterprises.. ARNO is a global player with certified processes and a clear objective: To create worlds for experience, providing purchasing motivation. The ARNO Group includes the headquarters in Wolfschlugen near Stuttgart as well as other companies in Munich, Bristol, Istanbul, Moscow, Guangzhou, Shanghai and a strategic alliance in New York.
Since the end of April two new machines, one PRO-MASTER 7125 5-axis CNC machine and one TECTRA 6120 pressure beam saw from HOLZ-HER have been in use at ARNO in their technical product preparation, prototype design and production departments. After detailed market analysis and comparison, they discovered the machines from HOLZ-HER satisfied the company's high expectations and requirements for machining their wide range of production. In addition to the excellent price/benefit ratio, the decision makers at the company were also convinced by the proximity to the manufacturer as well as the support in disassembling the old machines and installing the new. After comprehensive training, the first orders were produced on the new machines to the full satisfaction of the company. Peter Köstlin, Team Leader fir Technical Pre-Production, is enthusiastic about the new machines: "It is simply a lot of fun to work with these new machines and continuously discover new possibilities."
Edgebanding, CNC & complete machine united in production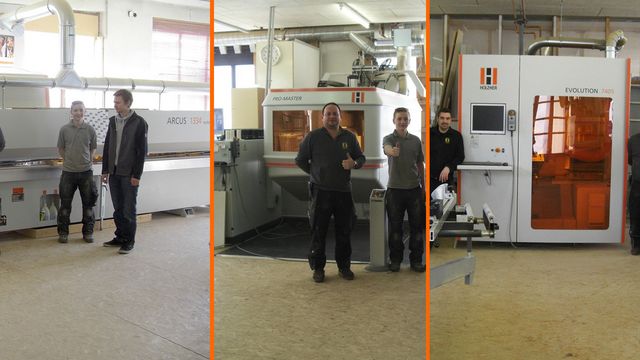 The Henss Interior Finishing Company in Feldkirch, better known as AUF&ZU (OPEN&CLOSE), is a satisfied HOLZ-HER customer, and, in the meantime, uses a majority of the production machines from the traditional manufacturer in Nürtingen.
The brand AUF&ZU is the result of decades of experience in interior finishing work. Starting with sliding doors, the idea was transferred to cabinet design. The cabinets have become rooms, where every inch of the room is used for a practical purpose. The AUF&ZU systems are planned to meet specific needs and visually matched to the tastes of the customer - without being subject to any limitations in design. Over 60 years of experience in the branch, has resulted in know-how appreciated by many regular customers.
All of the company's products are produce in their own shop. Since 2013 AUF&ZU has used HOLZ-HER machines for its production. Products already installed include a PRO-MASTER 7225 5-axis machining center as well as an EVOLUTION 7405 vertical CNC machining center for complete machining of all types of work. In addition to CNC machining, the company also used edgebanders from HOLZ-HER. Currently the predecessor model of the ACCURA is installed: an ARCUS 1334.
HOLZ-HER machines represent everything important for the AUF&ZU Company: Precision work, state-of-the-art engineering and use of European products, to produce high quality, enduring products for the customers.