Weinig EasyStop: Positioning your material has never been easier!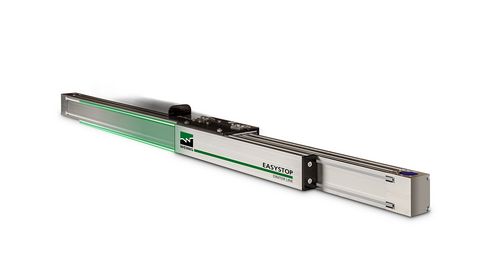 You´ve never cut, drilled or milled that easy! No matter which recurring process it is - with the EasyStop this process is perfectly automated. Start with automation and benefit from the comprehensive functionality of the automatic positioning system from the first minute - which offers you more than just driving to the next position.
The automatic positioning system EasyStop handles the positioning of workpieces on almost every machine. The EasyStop helps you to perform the usual work faster, more comfortable and more precise.
Your personal benefit? You can easily find this yourself. How many length stops do you have with your orders and how often do you have to fold them back and forth? Not once with the automatic positioning system EasyStop!
Adjusting the stops to a new dimension, performing sample processing and controlling dimensional accuracy are things of the past. All that time will be available to you in the future for your main activities.
Prices
x
Different requirements - different prices
The price of a WEINIG machine is just as individual as your requirements are. Therefore, let us discuss briefly what is most important to you – you will then receive our preliminary, non-binding quote.
Personal advice
x
Personal advice – for higher productivity and greater efficiency
Together with your WEINIG expert you will find the ideal machine for your requirements. Simply submit the completed form, and your local WEINIG expert will be happy to discuss all further details with you.
---
This offers you the WEINIG positioning system
Possibility of self-installation
Possibility of upgrades
Precision and speed
3 operating modes
Operating Mode - Stop System:
The operating mode stop system replaces one-to-one working with manual position or length stops. The workflow remains the same - enter the desired position, align the workpieces against the stop and machine the workpiece. Time-consuming, recurring ancillary activities are completely eliminated with the automatic positioning system.
Operating Mode - Angle machining:
Makes the processing of workpieces with angles not equal to 90 degrees easier than ever! Based on the operating mode "active workpiece transport", the angle function is easy to activate via the setup. The operator is informed step by step via the interactive input form which information is currently required. The control system ensures the appropriate calculation of the information and positioning of the workpiece.
Individual part production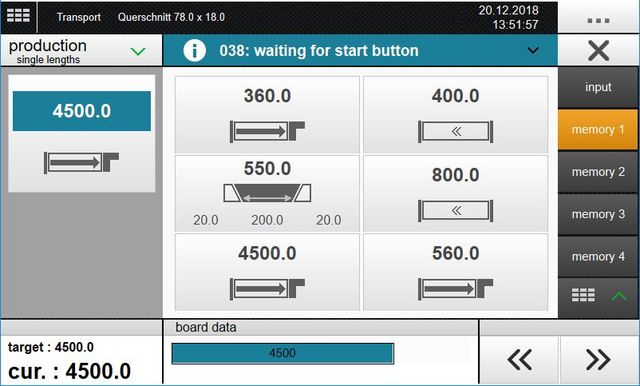 Maximum flexibility thanks to two operating modes. The individual part production mode is suitable for small and individual jobs – simply enter the requested position or length directly at the touch screen. Immediately after acknowledging, the EasyStop approaches the requested position exactly. To work even more efficiently, 24 frequently needed and preferred values can be stored in a comfortable way. The requested value can easily be retrieved by simple selection and the EasyStop approaches the position immediately after.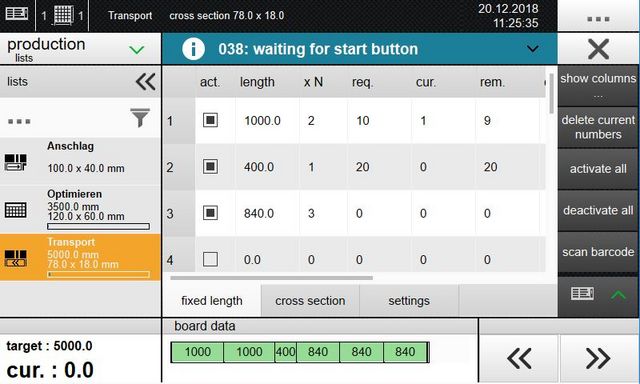 For standard products at recurring lengths and numbers, it pays off to switch into the list production mode. You can create the required lists directly at the operating terminal or import them from your corporate network or via USB flash drive. The necessary interfaces are part of the standard equipment of the automatic positioning system. On import, the lengths that you have stored are organized according to cross-sections and the appropriate production lists are established automatically.
Dynamic optimization – guarantees an optimum cutting pattern of the workpiece
The automatic positioning system optimizes every workpiece on the basis of the lengths stored in the production list, the priority and their target / actual quantities. The dynamic optimization (optional equipment) guarantees always an optimum cutting pattern and a maximum material yield.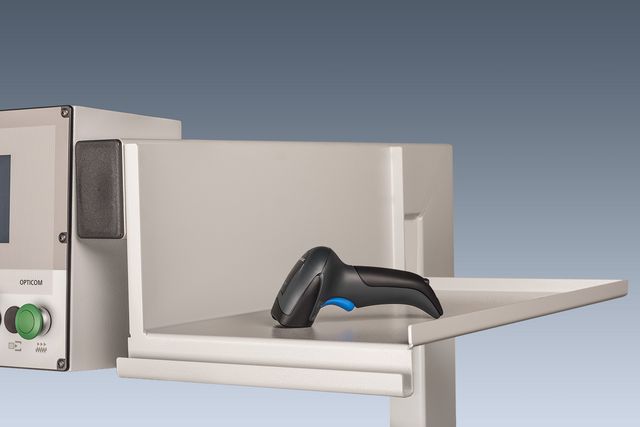 barcode reader
Due to interfaces at the current state of the art, you have the opportunity to import data via an optional and compatible barcode reader.
---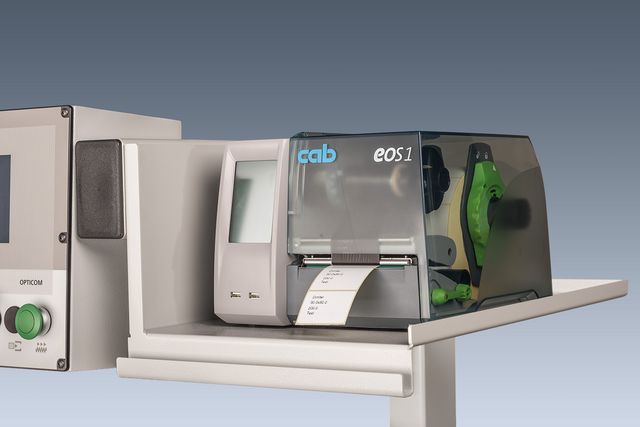 label printer
To identify the processed workpieces precisely in the later production, you can print a label after every processing step.
---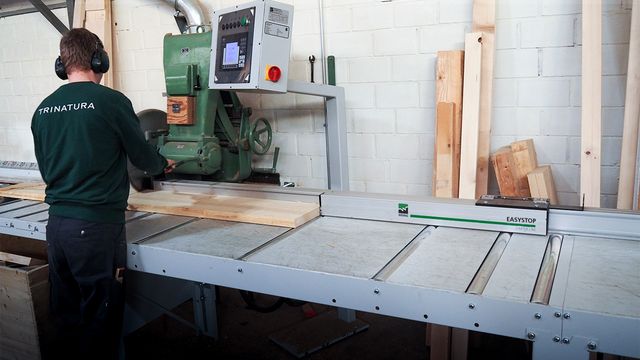 Klein, aber oho
Die jüngste Anlage aus dem Hause Dimter bei Trinatura ist das Anschlag- und Positioniersystem Easystop. Dieses montierte Dimter an einer bestehenden Pendelsäge. "Die alte Rollenbahn war zu schmal und wackelig. Darum mussten wir eine neue Lösung finden", erklärt der Geschäftsführer. Seit einem Jahr ist Easystop bei Trinatura nun zur vollen Zufriedenheit der Mannschaft in Betrieb. Rund 450 m3 Klotzbretter hat man in dieser Zeit gekappt - alle mithilfe des neuen Anschlag- und Positioniersystems. Die Mitarbeiter geben die Daten an der OptiCom-Steuerung direkt in die Maschine ein. Die Bedienung sei selbsterklärend. Easystop fährt automatisch an die gewünschte Position und der Bediener kann das Brett kappen. Die Schnittlisten können auch mit USB oder mittels eines Netzwerkanschlusses über eine Standard-Import-Export-Schnittstelle eingespielt werden. Easystop überzeugt nicht nur mit der hohen Genauigkeit - Dimter garantiert eine Wiederholgenauigkeit von ±0,1 mm. Für die Mitarbeiter ist das System eine enorme Arbeitserleichterung, wenn die schweren Hölzer nicht mehr per Hand an der Säge hin und her geschoben werden müssen. Als Schiebesystem bewegt es Werkstücke bis zu 60 kg. Dimter bietet Easystop mit fünf Eingangslängen von 1,55 bis 11,3 m an. Die Verfahrgeschwindigkeit des Schiebers beträgt bis zu 60 m/min. "Unsere Mitarbeiter freuen sich, wenn sie schnell und effizient arbeiten können", bestätigt Bucher.
Autor: Martina Nöstler / Holzkurier Ausgabe 17 | 26.04.18