WEINIG EScan: A new dimension for sorting by strength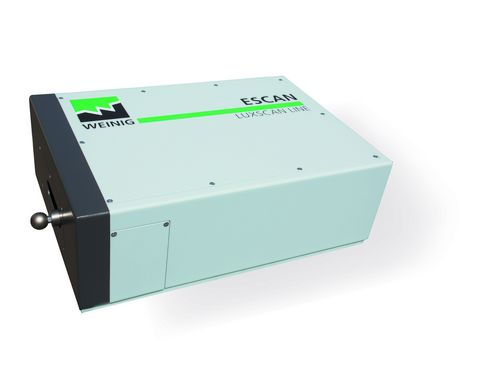 The EScan LuxscanLine represents a major step into a new application for WEINIG. In EScan, we are extending our product range with optimized sorting by strength. A range of different options for sorting by strength now enable certified production of glulam, DUO, TRIO and other strength-related products.
EScan is an inspection system for components with strength requirements in accordance with EN-14081. EScan calculates the strength class of a board on a cross conveyor via its dynamic E-module (MOEdyn,long) and the density ρ. A hammer causes the board to vibrate, which is measured by a laser interferometer. The density (ρ) is calculated from weight and dimension measurements. The bending strength is then calculated using statistical models. This proven method delivers consistent results for calculating the mechanical resistance (strength class) of a board.
Why not benefit from increased production performance and convince yourself of the many options and opportunities offered by the system in combination with the proven CombiScan Sense.
Prices
x
Different requirements - different prices
The price of a WEINIG machine is just as individual as your requirements are. Therefore, let us discuss briefly what is most important to you – you will then receive our preliminary, non-binding quote.
Personal advice
x
Personal advice – for higher productivity and greater efficiency
Together with your WEINIG expert you will find the ideal machine for your requirements. Simply submit the completed form, and your local WEINIG expert will be happy to discuss all further details with you.
---
The WEINIG EScan series provides
Up to 180 boards / minute
Dynamic E-module measurement via laser interferometer
Density measurement via dynamic weighing and dimension measurement
Measurement during throughout feed (board does not have to be stopped for measurement)
Easily integrated into existing production lines
User-friendly control interface (touchscreen)
Detailed production statistics
Network compatible
Can be directly connected to all optical and X-ray scanners of the CombiScan series
PC-based system