The Weinig Group at Xylexpo 2018: Maximum benefit for customers
03/28/2018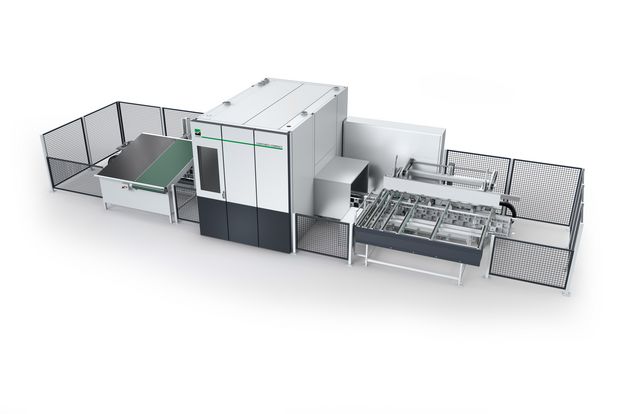 Under the slogan "Think Weinig", the market leader in machines and systems for solid wood and panel processing will be demonstrating a total of 20 exhibits live over approximately 1,000 m2, all of which have been specifically designed to secure competitive advantages for business of all sizes.
Perfect answers for every target group
Both traditional operations and digitized companies will find the right solution for their production requirements on the Weinig stand in Hall 4. Visitors can not only experience networked solutions of the highest W 4.0 digital standard in action, they can also see modern, stand-alone machines with automation at every performance stage. All exhibits share the Weinig philosophy of ensuring optimal manageability of increasingly complex technology via simple operating concepts. The international hot topics of flexibilization, resource efficiency and predictive maintenance will also be in the spotlight. Smart tech and system integration will also be high on the agenda.
New entry-level moulder
In the Product Unit Planing and Profiling, the new Unimat 217 will celebrate its world premiere. The compact machine for four-sided solid wood processing is considerably more user-friendly than comparable machines in its performance category and offers significantly greater added value than its predecessors. This is particularly due to a number of features being adopted from the next largest Powermat series.
The Powermat 700 from this performance category, the world's highest selling Weinig profiling machine, will also be exhibited in Milan. Stand visitors will have the opportunity to see demonstrations of a six-spindle version for various profiling work as well as a machine especially equipped for window manufacturing requirements. For larger requirements in terms of performance and flexibility, Weinig offers the Powermat 1500. The solution is aimed at semi-industrial production requirements. An automated Powermat 1500, equipped with the SmartTouch digital set-up aid and connected to the Weinig System Plus work preparation, will also be on display. This highly-efficient solution covers fully-automated tool grinding, tool measurement and virtual set-up of the moulder. And, of course, we could not go to Milan without the successful Cube Plus. The easiest four-sided planing machine to operate on the market offers automatic positioning via touchscreen display and completes planing work 10 times faster than a straightener and planer.
Fascinating Weinig world of windows
Weinig will underline its outstanding expertise in Milan with exhibits from the entry-level segment to the Smart Factory. On the Conturex Compact, the new WMC (Weinig machine control) will celebrate its premiere. In the particularly user-friendly user interface designed for group-wide use, Weinig is setting standards in the lowest performance category in terms of handling and production safety. The virtual tour in Weinig Solid WF promises to be a particular highlight in the high-performance segment. Stand visitors will have the opportunity to look inside a Conturex system with the highest level of equipment using 3D glasses. Cutting-edge technology, integrated production and networking in the Weinig W 4.0 digital standard will come together to provide a spectacular experience. The individual visual experience will be broadcast live to spectators outside of the black box. Demonstrations of the Weinig Service App are sure to attract great interest. In the new version, Weinig is taking monitoring to the next level.
Improved cutting efficiency
When it comes to cutting, Weinig's expertise ranges from the floor-mounted saw and high-speed cross-cut saws to scanner systems and rip saws. The stand in Milan will feature a cross-section of the current portfolio. Highlights include the OptiCut S 260 throughfeed cross-cut saw with a feed speed of up to 250 m/min and camera-based detection of three qualities. The OptiPal + OptiResult software package has been designed for particularly economic production. Demonstrations will show how the tool makes cutting more efficient from single-item batches upwards. The software offers a range of functions from product and parts list management, order entry and cutting list creation, pre-optimization of cutting lists for optimal yield and creation of picking lists to screen-supported machine operation and parts identification after cutting. Another exhibit in Milan will be the EasyStop automatic positioning system for the OptiCut C series as an optimal entry to automating manual processes. The system can also be integrated into existing cross-cut saws. A new addition to BKS band resaws is SplitAssist laser width measurement. An optimized surface facilitates operation. The proven FlexiRip 3200 now has cutting height recognition, ensuring that the material is always ripped optimally with an allowance.
New gluing press with simple handling
Weinig will present a further innovation in Milan in the area of gluing. The ProfiPress L B combines all of Weinig's know-how in high-frequency gluing and press technology in a single machine and significantly simplifies the production of window scantlings, beams and panels. Particularly high forces exerted from the side and above ensure perfectly sealed glued joints.
High value creation thanks to Weinig finger jointing technology
Weinig's expertise in jointing technology will also be represented on the stand. The compact Ultra TT 1000 finger-jointing line for short timber pieces will be on display. With a manually or automatically operated turntable running along the line, this is the perfect solution for commercial use of residue wood in medium-sized businesses. Raw wood lengths of up to 1,500 mm can be processed.
Nextec revolutionizes small business
One of the outstanding Weinig trade fair exhibits making its debut in Milan is the new Nextec technology from Holz-Her, the panel processing specialist within the Weinig Group. Nextec revolutionizes the way joiners work and equips them for the challenges of the future. The technology is a complete solution for a modern furniture finish, efficient production and effective sales. Nextec can produce made-to-measure furniture in just three steps. The series is on the market in a range of models and has various automation components. Two versions will be on display at Xylexpo: Nextec 7707 and Nextec 7735 lift. The latter comes equipped with 5-axis technology and a lift table. The integrated 5-axis head allows all angles and miters to be processed with CNC precision. With a processing height of up to 300 mm, the machine opens up entirely new areas of application.
Holz-Her will be presenting another series of machines on the Weinig stand besides the pioneering Nextec. These include solutions for CNC processing and edge banding with Holz-Her zero-joint technology. The Lumina series, which will be exhibited in Milan, is equipped with the GluJet glue application system for series production with PUR adhesive and Ltronic, the fully-integrated laser edging unit for processing laser edges. The Holz-Her line-up will be completed by panel diving saws. Holz-Her will demonstrate at Xylexpo how a profitable smart workshop can evolve for businesses of all sizes in combination with the Store-Master intelligent panel store and material handling system.
Photos:
Photos can be downloaded from the Weinig website in print quality at http://www.weinig.com/de/weinig-gruppe/presse-portal/.