The WEINIG.EXPERIENCE starts in November with the Solid Wood Summit
09/30/2021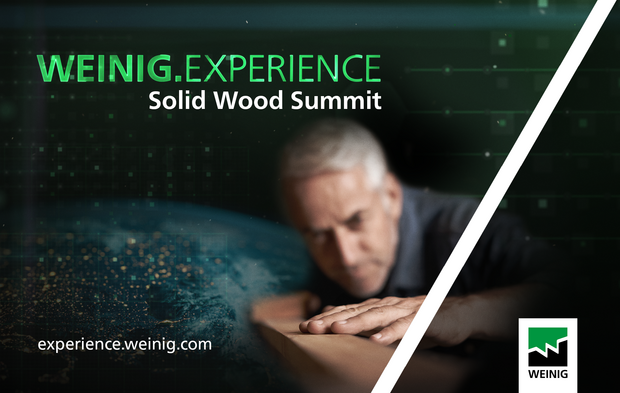 The last one and a half years at WEINIG have been dominated by the expansion of digital customer contact. In particular, the introduction of digital machine demonstrations offers real added value in preparation for purchasing decisions when expanding or redesigning production lines. At the same time, existing digital solutions for customers were further improved. Several enhancements to the App Suite offer new functions and solutions for monitoring and controlling production.
To offer its customers even more, WEINIG is also introducing a new platform this year: the WEINIG.EXPERIENCE. The name is both the program and the central anchor point, as it simultaneously forms the guiding idea and the digital home for WEINIG's future events - whether online or offline.
In November, the Solid Wood Summit will be the first, in this case digital, WEINIG.EXPERIENCE event. The contributions will be broadcast in both English and German, and during the online presentation, which can be followed from the comfort of one's own office or home desk, experts will be available for feedback and follow-up questions via an integrated chat function.
The lectures feature experts from WEINIG, VDMA (German Engineering Federation), universities and research institutes who cover the entire spectrum of the woodworking industry. From craft businesses to industrial production, from cutting to processing, from the packaging to the construction to the furniture industry - the whole variety of topics, interests and solutions is served here. This range of content is rounded off by specialist talks from the field, customer reports, interviews, and concrete application examples.
With this versatile program, the world's leading technology provider from Tauberbischofsheim not only provides concrete benefits for its customers, but also clearly positions itself and its partners as a driving force for the industry.
Among the high-profile speakers at the event are Professor Martina Zurwehme and Professor Christian Kortüm from the University of Rosenheim, as well as Oliver Schöllhammer from the Fraunhofer Institute.
You can already register for all event updates at experience.weinig.com. The actual event website will go live on October 18. From then on, the conference calendar will be online, and everyone interested will be able to put together their own personal event program.