Planing and profiling with WEINIG in industry and trade: Perfect surfaces, very short setup times
Planing machines and moulders are constructed for longitudinal processing of products from solid wood, boards such as MDF, plastic or similar materials. The products can be planed, profiled or split in one run. Transport through the machine is carried out using numerous feed rollers.

A large variety of tool holders and the use of universal spindles, splitting units and saw stands makes the possible applications almost unlimited! WEINIG is the undisputed market leader in terms of automatic planing machines and moulders and is always setting new standards with its combination of experience and innovations.

All machines can be optimally equipped for each individual application's requirements. In addition, WEINIG supplies everything around the planer and moulder, starting with the tools, the production of the cutters and the tool measurement, the automation right up to the planning of overall solutions.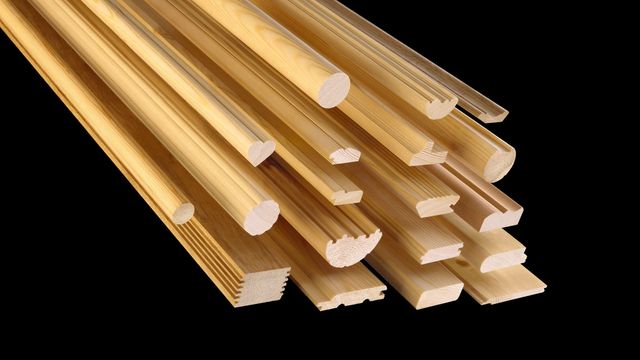 Our core competence
Profiling mouldings of all types has always been WEINIG's core competence. Profiling includes a wide range of end products that nevertheless set the same challenges for machine technology: high levels of profile precision with excellent surface quality and regular cuttermarks.
WEINIG technology is always setting new standards in this area. The basis for this are the solid machine bases with precise machine tables and the fence at exactly the right angle to this. The superiority of the WEINIG machines is seen overall when dynamics are brought into the equation: spindles with high true running accuracy, a strong feed system and the corresponding pressure elements.
The perfect interaction of these components guarantees smooth transportation in a defined position through the machine. The result is the legendary WEINIG quality of your products: high profile precision, excellent surface quality and regular cuttermarks.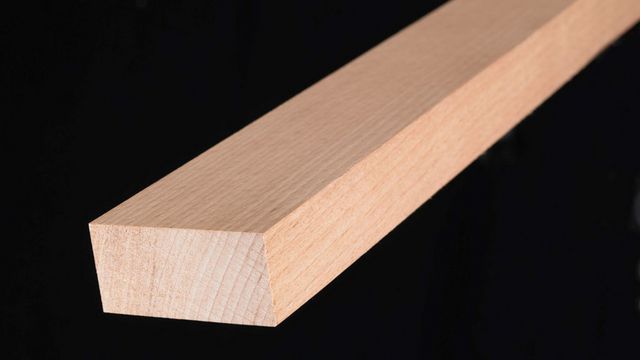 Perfectly right-angled work pieces
Wood is a natural material and that influences the requirements that are involved for processing it. Wood can contain defects, it can be bent or warped. For many applications, therefore, e.g. for furniture, it is essential that the work pieces are planed on all four sides. The key thing here is that the work pieces are accurately straightened and that they have perfect angles after being processed.
This may sound easy, but in many cases it is not, because the production precision of the machine has a significant influence on the quality of the end product. You can always rely on the famous WEINIG quality. WEINIG offers many different solutions, from manual to fully automatic operation and from machines for occasional use to machines in continuous shift operation.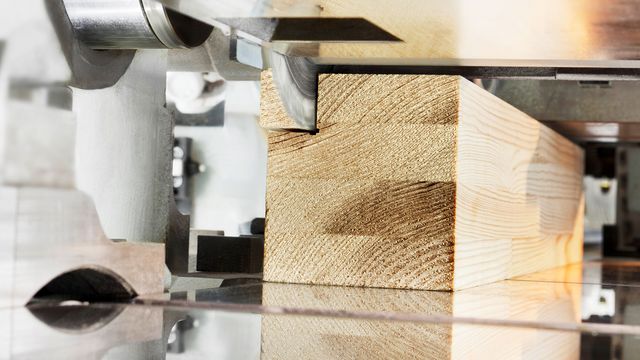 All stages of the processes on one machine
Profiling window scantlings on the long side and the cross side of the window scantling, and shaping and drilling are carried out on the processing center that outputs the fully processed scantling. However, the moulder still has an important role in window production as it is needed for 4-sided planing of the window scantling, to remove and to profile the blank glazing bead.
The WEINIG Powermat has a special window package that was precisely designed to complete these three process steps. Using the press of a button the user can select whether the four sides should only be planed or whether the blank glazing bead should be removed as well. Safety prompts ensure that an adjustment can only be carried out when there is no work piece in the machine and that there will be no collision between the saw blade and contact pressure elements. The PowerLock system means that the machine can be retooled in a very short time so that the glazing bead can be profiled.
The WEINIG system also enables the moulder to be connected to the cross-cut saw and the processing center. Thus, WEINIG offers the ideal solution for window production because it is the safest and most efficient.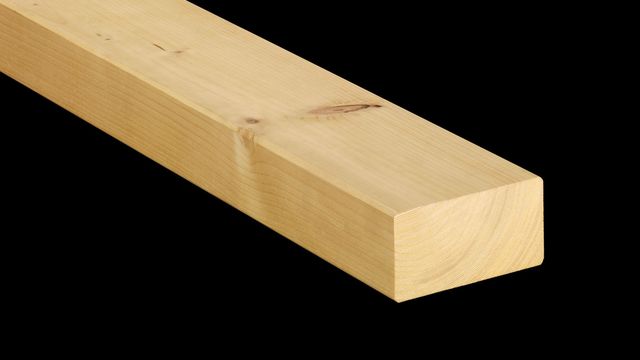 The importance of solid wood as a construction material has grown constantly over the last few years. This means that there are high demands on the surface quality, particularly for the visible areas. The largest area of application are beams, which are planed on 4 sides and chamfered.
Depending on your requirements, WEINIG offers the right solution, from a small machine to a large line; but they have one thing in common: a high level of flexibility because of the 90° chamfering unit.
The chamfering unit is used to produce the fourth chamfer on the beam after the other chamfers have been produced by the vertical spindles and the horizontal top spindle. The chamfering unit control means that dimensions can be changed quickly and a change in the strength of the chamfer can be made without changing the tool and simply by positioning the spindles.
With this technology WEINIG enables small companies to work with the same economy as a large organization.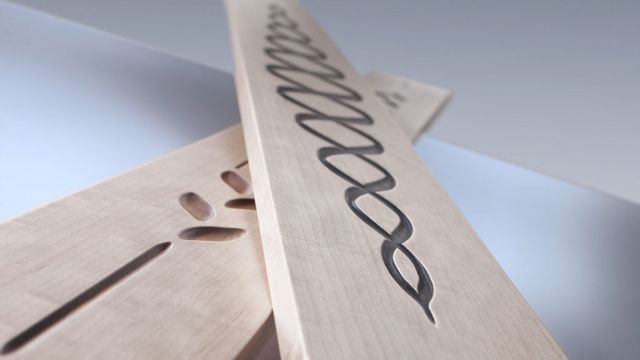 Produce innovative products economically
Creative surfaces are in fashion, whether for furniture frontages, flooring or facades. Previously, things that you could only produce at high cost by hand or in processing centers can now by produced in the moulder in one run.
The WEINIG structure planing technology makes it possible to move the spindle relative to the work piece as it is fed through and in this way to create a three-dimensional surface. Using CAD software the structured surfaces can be checked and simulated in advance and then actually produced on the moulder.
This puts WEINIG at the forefront again, setting new standards with this new development that could open up new market opportunities for you. You can let your creativity run wild with this technology, producing new products - along with short run times, high productivity and low unit costs.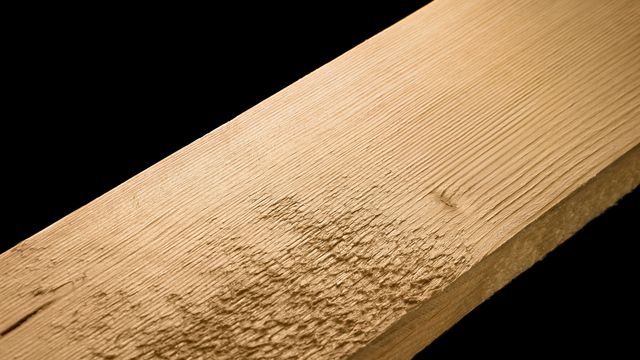 In industrial wood processing, material yield plays an ever greater role. Scanners are used in this context to identify places with defects and to cut them out. Pre-planing is necessary at the start of the entire chain in order to provide the scanner with a clean surface. Accordingly, chip removal should be minimal and a high feed speed is usually required.
In this segment, WEINIG offers both simple solutions with excellent value for money, as well as innovative solutions with unique technology: from hydro-tools to jointers, slanted spindles and floating spindles up to a feed speed of 300 m/min. As well as the necessary machine technology, WEINIG, of course, also offers suitable mechanization. We can meet your pre-planing needs perfectly!
WEINIG products and solutions for planing and profiling
The right solution for every requirement - this is what the WEINIG product portfolio offers for planing and profiling. With feed speeds of 6 and 600 m/min.
References for planing and profiling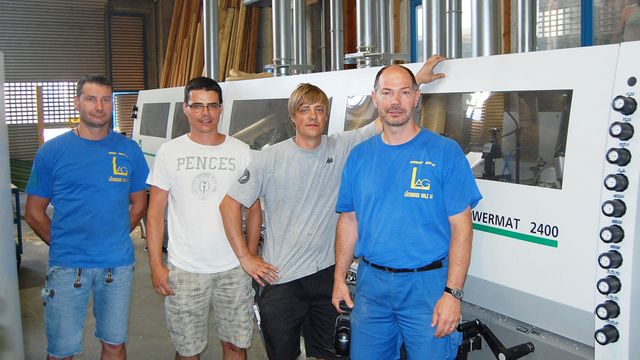 The Swiss are accustomed to precision workmanship. Still, Lüchinger AG struggled with an automatic moulder from the Far East for four years. Then they had enough.

Full order books are a fine thing. However, it can be a problem if your production capacity is not up to the task. That is why Lüchinger AG were delighted when an Asian manufacturer offered them an immediately available planer that was a perfect complement for their long-serving Weinig Hydromat. The Swiss firm accepted and bitterly regretted it: There was one material defect after another and breakdowns were a daily occurrence. The promised performance was far from being achieved. When the local service operation closed its business, Max Lüchinger drew a line in the sand. "We realized in that moment that you have to take your time to obtain a functioning, customized solution," says factory manager Arthur Pfiffner. The road led back to WEINIG. The Tauberbischofsheim specialists partnered with Lüchinger to develop a customized production concept based upon the Powermat 2400. With the Uni spindle and state-of-the-art technology for structure planing and carving, Lüchinger now handles every market demand with complete process reliability. After years of uncertainty, we are very relieved, Arthur Pfiffner admits. And if Lüchinger ever need any advice, the Weinig telephone hotline is at their disposal. There is always an expert contact partner immediately on the line who can help, Arthur Pfiffner underlines.
The power of the mountains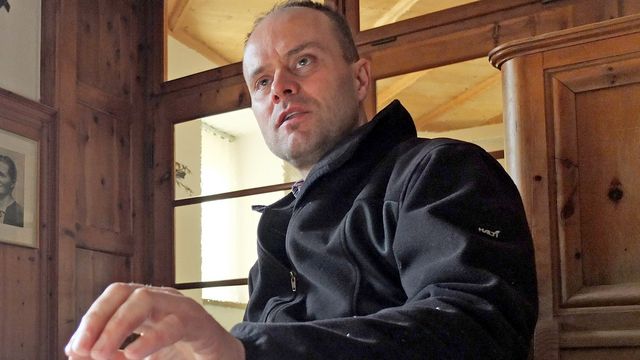 Alois Prader GmbH is fighting back against the quick-turnaround wood industry with quality. The firm compensates for its disadvantages in terms of location with modern, customized production technology.

The wild and beautiful Villnöss Valley, home of the extreme mountaineer Reinhold Messner, is also home to Prader. However, holidaymakers' joy is a wood processor's sorrow: The mountain timber takes twice as long to grow as that on the lowlands and is destroyed by the mass-produced wood industry, says Managing Director Peter Prader, voicing his frustration. To assert themselves, Prader invested in new production technology. The objective was to increase value creation while maintaining top quality, an extensive product range and the shortest possible delivery times. The centerpiece of the production line is two Weinig planers. While the old machine is used for special applications, the new investment is purely aimed at productivity and flexibility. This is achieved via 11 shafts, "floating spindles", which allow the lowest possible chip removal thickness, and a tilting cleaving saw unit, which allows several workpieces to be produced in a single pass. The results speak for themselves – Prader are doing brisk business. And the quality has also impressed the die-hard wood enthusiast: With Weinig technology, we get surfaces that are so good, our scanner detects significantly more defects than previously, said Peter Prader. His verdict on the new planing line: We are better and significantly more productive and the flexibility it has given us has opened up new markets.
Planing, quickly and safely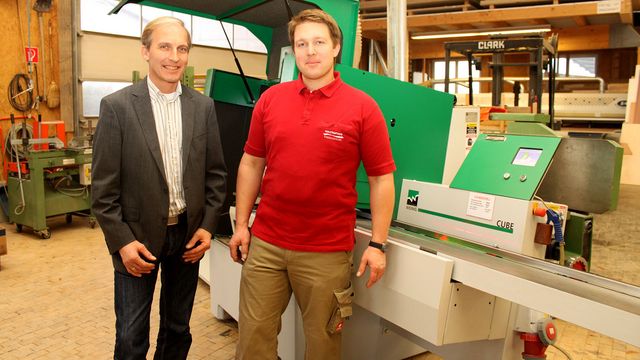 Efficient, simple to operate and safe to handle: Upper Austrian carpenter Holztrattner has acquired a compact, rapid and practical planer in the WEINIG Cube.

Holztrattner is a company with a long-distance effect, one might say. When approaching by car on the highway, you can already see a large sign from some distance away that reads: "Holztrattner. Your master carpenter with ideas." And Herbert Holztrattner certainly has some ideas: Living rooms, bedrooms, kitchens and bathrooms – the carpenter and his team cover the full spectrum of interior fittings. We can even fit out entire houses, says Holztrattner, who founded his company as a one-man operation in 1990.

EXPORT HIT: GARDEN FURNITURE
The 46-year-old, who completed his apprenticeship in cabinet-making, started out primarily with restoration work. The business has since steadily grown to a 12-strong workforce, including son Jürgen – also a trained carpenter – who has worked in the business for years. Restoration work is now just a small part of the workload. In addition to the core business of interior fittings, Holztrattner has also designed and produced its own garden furniture for a number of years. The garden swings produced by the carpenter have proven a real export hit. Holztrattner's first design was actually "only" a birthday present for his wife. However, the resourceful master carpenter has since developed the garden seating with characteristic C-shaped side rails and arm rests, improving the design, and even received a design award in 2003. The model is now sold with great success to Poland and East Frisia.

BY TRADITION: WEINIG
As a carpenter who works with solid wood, Holztrattner also has a planer in the workshop. For 17 years, the Quattromat 18 four-sided planer from WEINIG gave him good service. However, last year, he took the decision to acquire a new machine. Once again, he opted for a WEINIG machine: The Cube, unveiled by the wood machinery manufacturer at the Ligna trade fair in Hanover last year. In addition to the machine's qualities in terms of precision, Holztrattner was particularly impressed by its user-friendliness: "You don't have to adjust anything. The whole machine can be practically operated via a touchscreen. Even our apprentice in his first year can already use it." The planer is delivered ready to plug in, meaning that it can be immediately put into operation once set up. Additional training
was not necessary.

HIGH-TECH PLANING
Now, everybody in the business – including the boss – occasionally uses the Cube, which does S4S in a single pass while also making work easier with a range of additional practical features: The WEINIG EasyLock system allows quick blade changes with little intervention inside the machine. Dimensions can be changed while the machine is operating at the push of a button while the so-called MoulderPreView projects the spindle settings onto the workpiece by laser, allowing further optimization before machining. Herbert Holztrattner has also customized his new Cube visually: The machine exterior proudly bears a prominent company logo and motto. That way, the "master carpenter with ideas" is ever-present both in the factory as well as further afield.

Text and cover picture Thomas Prlic, Tischler Journal
Cube captivates Eichelbrönner joinery
A traditional 'beer mat calculation'* made Werner Eichelbrönner curious. And after a test, he did not want to hand the Cube back. Read more about his experiences.

Werner Eichelbrönner set up his business in Schwanfeld, Lower Franconia in 1999. Despite some difficult times at the outset, the master joiner remained true to his love of high-quality products in solid wood. Today, individuality is highly sought-after, particularly in the joinery's core business of interior fittings. With three master craftsmen in the company, Werner Eichelbrönner places great value on the internal know-how of his team from cutting to assembly. Our customers know that we think pro-actively during projects. That is the way is should stay, underlines the company boss.

*typical German method of making a quick and simple financial calculation.
No regrets about using outsiders - the Dauerholz story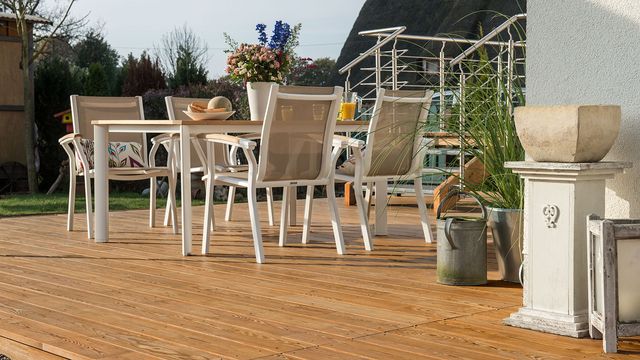 Peter Weller says: "If I want an entire concept, there is no alternative to Weinig."

The idea started in Hamburg. The production was outsourced to MeckPom. Using outsiders has really given the company a boost. But the Dauerholz decking boards are an obvious hot topic.

A few years ago, a Hamburg carpenter made a sensational discovery: Unlike similar preservatives, hot wax seeps into the core of the wood ensuring genuine deep protection. The researcher found bold investors who believed in the idea, primarily because the outdoor area, with decking and construction timber, provides vast scope for ecological wax-impregnated wood with its high resistance to weathering, moisture and pest infestations. A production plant was built in the perfect spot in Dabel near Schwerin.

The customized Dauerholz production line was designed and installed in close cooperation with the project specialists at Weinig Concept. As well as a planing and profiling machine, a high-speed optimizing cross-cut saw, a curve cross-cut saw, a scanner and a finger-jointing line, the site also includes a tool grinder machine from the Weinig portfolio. "We wanted to keep the entire process in-house as well as being completely autonomous in terms of tool preparation," says Peter Weller, explaining the decision.

Dauerholz placed greatest emphasis on optimization of wood recovery and finishing. We performed a recovery analysis and established that we had more than halved cutting losses, reports Peter Weller. This success is also partly attributable to the new moulder. The moulder is equipped with "floating" vertical spindles whose flexible bearings allow it to follow the natural curvature of the wood over long lengths. This prevents "snipes" and "dips" on either end of the work piece and eliminates finish planing with further chip removal.