Take your production to the next level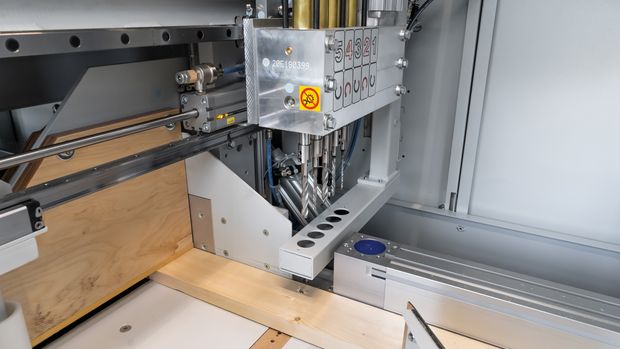 The vertical range of production is related, among other things, to the manufacturing capabilities that a company can use. Often, the optimization potential in different process steps is key to extending the vertical range of production and increasing flexibility as well as process reliability in product manufacturing.
With an increase in the vertical range of production, companies inevitably have to deal with new or obsolete machining processes and are often faced with the task of integrating new machines and processes into production.
We at WEINIG offer the right solutions for this!
The new Powerdrill drilling unit is the perfect addition to the product portfolio for easy cutting with the OptiCut S 50+ optimizing cross-cut saw.
It allows drilling and cross-cutting to be performed in a single operation. This technical change and option of our optimizing cross-cut saw gives you new possibilities in designing your production process and maximizing production capacity. By combining two machining steps on one machine, we enable you to produce with high efficiency what previously had to be done on two separate, often manually operated machines. This ensures time-saving, process-reliable and higher-quality production. By means of the OptiCom – the saw's control system – all cross-cuts and drill holes can be intuitively created and modified in lists, i.e. without prior PC knowledge. This can also be done from an office PC, which works even faster.
In the machine body, the drilling unit is integrated upstream of the sawing unit. The unit is designed with high-quality components for precise positioning along the workpiece width (y-axis) and along the workpiece height (z-axis). In the longitudinal direction of the workpiece (x-axis), conveying is carried out with the positioning pusher. A wide variety of pressure options can be used for clamping the workpiece upstream and downstream of the processing units.
The drilling unit with five tool holders is the ideal solution for those who are looking for multiple processing with a single machine and attach importance to an optimized process flow in production, e.g. for processing wooden components for gardens such as fences, screens, decking, furniture parts, and much more.
The OptiCut S 50+ Powerdrill optimizing cross-cut saw with integrated drilling unit offers you a 2-in-1 solution to take your production to the next level and also increase your profit by reducing your fixed costs.