Ligna 2015: HOLZ-HER Innovation Offensive continues
05/07/2015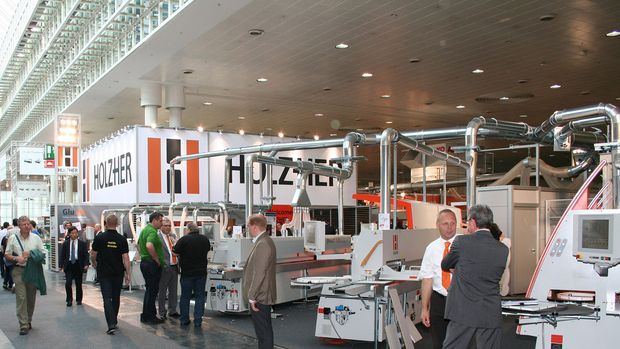 NEW: ACCURA & LUMINA – The Quantum Leap in Edgebanding
With the LUMINA and ACCURA series Holz-Her now presents in Hanover the new generation of edgebanders to the world public for the first time. These two series offer a new machine design as well as a new, high resolution, 18.5" LED touchscreen with completely new GUI programming. The new multifunctional machine concept and perfect, invisible joint technology with laser edging or waterproof polyurethane glue, establish new standards for edgebanding.
The new LUMINA series offers a unique combination for processing panels: Two systems for perfectly invisible joints. The GluJet glue application system for standard use of PUR glue and the LTRONIC, the new laser edging unit from HOLZ-HER, which provides a fully integrated solution for processing laser edging. All current co-extruded and subsequently coated edging can be processed using this solution. The newly developed NIR module (NIR = near infrared radiation) in the Ltronic unit is electronically controlled for activating the laser edging function layer. The result is perfect invisible joints. With HOLZ-HER's Ltronic, users obtain a cost-effective alternative to laser and hot-air processes, enabling laser edging of perfect quality to be achieved.
The new ACCURA series was developed for high quality artisans and industrial parts producers. Four new machining attachments, developed especially for this series - the cutter unit, the corner rounding unit, the radius scraper and the new flat scraper - are also available as fully automatic versions with patented multistage tool technology. One highlight of this machine is certainly the patented HOLZ-HER GluJet glue application system, which ensures extremely short heat-up times of only 3 minutes and high strength joint connections by injecting the glue under high pressure. Moreover, it allows use of waterproof PUR glue or EVA as well as various glue colors in cartridge or granulate form as a standard feature.
This ensures uncompromising, continuous processing of all common edging materials fully automatically. The new attachments as well as the multifunction equipment are also available for the LUMINA series in combination with laser edging processing.
NEW: Complete CNC Machining in Compact Format
In a live demonstration using the Evolution, HOLZ-HER presents everything on the subject of "complete CNC machining in compact format". Here the Evolution series will be demonstrated to the professional world either as a full-fledged formating and drilling center for complete processing of carcass parts or as a pure drilling center with optional XL drilling head and up to 22 drilling spindles and grooving saw. This full-quality CNC machining center, requiring less than five square meters of space, is designed with extremely short processing cycle times and exceptional precision. Here particularly, cabinet makers as well as industrial parts producers have an opportunity to learn all details on full-fledged vertical CNC machining.
NEW: 3D Software Module for Holz-Her 5-axis CNC
In addition to design, the new 3D CAD/CAM module from HOLZ-HER allows transfer of the 3D data in all standard formats. The tool required for processing can be assigned easily in a few simple steps. This live demonstration convincingly shows customers the impressive performance and new capabilities in the 5-axis range.
NEW: Revised Line of Panel Cutting Saws
At this year's LIGNA 2015, HOLZ-HER will also present the completely revised line of horizontal panel cutting saws. With saw blade protrusion of up to 82 mm for companies just getting started in this sector and up to 130 mm for established industrial users, the ideal cutting package for single panels and stacks is always available for any application. The "Dynamic" version offers a combination with automatic charging system, for example from horizontal storage, for maximum flexibility ranging from mass production, to single pieces. For high quantity mass production, the HOLZ-HER "Lift" pressure beam saw provides a complete solution with solid lifting table for precision positioning. In addition to mechanical precision, the panel cutting saws are distinguished by their comprehensive basic features including innovative software package. In addition to perfect optimization and data transfer from the office, the software also provides mature interfaces to intelligent storage and charging systems as well as uncomplicated data transfer from branch software or software from other suppliers.
NEW: Multirex CNC for Solid Wood Applications at the Weinig Fair Booth
The top model in the Multirex series, the MULTIREX 7225 Windows with VarioDrive machine table, will be presented to professional visitors at the fair booth in Hall 12. The high positioning accuracy of the automatic suction cups and frame clamps is laid out perfectly for automatic reclamping of rod profiles and curves. The Windows models also include standard features such as the extremely powerful 17 kW spindle with PRO-Torque technology and a software-controlled "interlock" for the C and A axes with advantages particularly when performing milling operations with maximum chip removal. Mechanically, the MULTIREX 5-axis machining centers are distinguished particularly by the extremely dynamic action of the 5-axis head and smooth motion sequences with interpolating movement.