The vertical CNC series EVOLUTION 7401 and 7402
05/10/2015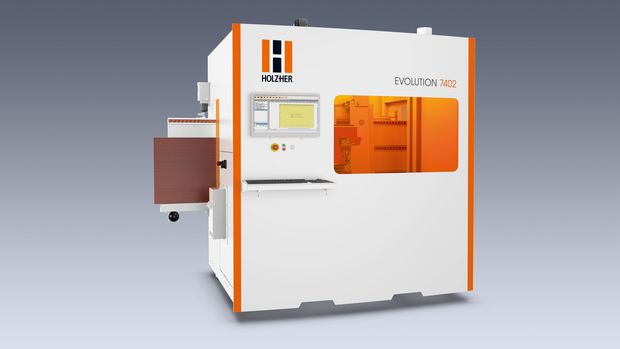 Customers who need a cutter unit for formatting, cutouts and pockets, are also well served with the EVOLUTION 7402. In addition to its powerful 5.6 kW spindle, this cutting and drilling center is also available with the drilling head versions mentioned above.
The new members of the EVOLUTION family adapt themselves fully automatically to material thicknesses from 8 to 70 mm without any setup work whatsoever. Generous machining dimensions from 2,500 mm in the X direction without additional panel support as well as 920 mm in the Y direction are a further advantage of the "little" EVOLUTION 7401/7402. In addition, the new vertical HOLZ-HER CNC units come with an exceptionally small space requirement. Naturally a laser measuring feature is available for determining the precise length of workpieces. The proven vacuum clamping system on the EVOLUTION series has been adapted to the two new models for holding highly differing types of material securely and gently.
The machining capabilities and versatility of the EVOLUTION are enormous. In addition to production of furniture components and counter tops using panels or solid wood, cutting and drilling processes on workpieces with complex shapes will be demonstrated at the LIGNA. An absolute highlight at the LIGNA will also be a live demonstration of light-reflex engraving: For this purpose HOLZ-HER will be introducing the unique, patented Pic2Plate software allowing image data to be copied and vector cutting programs to be generated quickly and easily.
Naturally the EVOLUTION 7401 and 7402 are equipped with the latest version of CAMPUS/NCHops.