STORE-MASTER – The Smart, Complete Solution for Panel Handling and Charging
05/11/2015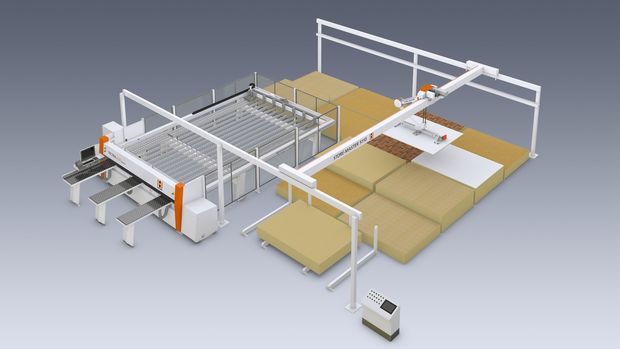 Customers can select from many pre-configured basic versions to find just the right solution to meet their requirements.
The system consists of the basic version comprising a storage and retrieval feature for panel stacks as well as horizontal storage locations for free layout. The panel material can be booked in on the control computer integrated into the system, where it can be managed completely in the material master file for the panel cutting saw. The cutting list from the HOLZ-HER saw provides a preview of requirements for whole as well as remnant panels for storage. The intelligent storage software, which already divides the panels up into "clusters" as determined by the consumption statistics, eliminates any delays in supplying the panel material to the panel cutting saw. Even when new panels are stored in the system simultaneously, the storage software calculates the time required to guarantee optimized material flow to the pressure beam saw at all times. Naturally the operator can also chose "snapshots" for production. The mature manipulator measures the weight and size to ensure reliable cutting of the individual panels as well as a plausibility check. A reliable process supplies the panels to to the precise position on the machine table. The enormous dynamics of the STORE-MASTER system also make it easy to form stacks without waiting times at the saw.
Naturally the panels can also be laid down turned 90° by the electronic rotation unit for optimized cross-wise cuts. The software for the STORE-MASTER system is laid out completely for communication with the HOLZ-HER pressure beam saws, thus providing perfect data flow and system reliability.
In addition to the enormous increase in the cutting performance on the panel cutting saw and gentle material handling, the storage system also reduces the work load for employees enormously. All work on the pressure beam saw can be accomplished by one employee, eliminating all waiting time for stackers or helpers and leaving only the handling work on the cut panels for the machine operator.
Conventional charging systems with lifting table or stacker quickly reach their limits with thin panel material, with easily scratched surfaces and abrasive materials. The possibility of mixed stacks with different panel dimensions, panel thicknesses, etc. is also limited highly by systems with lifting tables - or is not possible at all. With the tendency to "one-piece-flow", i.e. continuously decreasing batch sizes and custom solutions for individual customers, the HOLZ-HER STORE-MASTER system offers the perfect solution for shops of all sizes.
Within the sense of development to Industry 4.0, the storage software in combination with HOLZ-HER optimization software also offers perfect control right from the office of material consumption and flow in operations.