WEINIG OptiCut S 50: Built for automatic, universal cross-cutting for small business and industry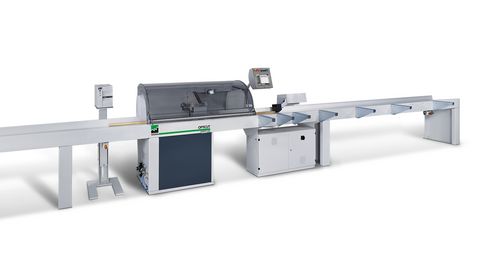 Cutting accuracy, flexibility and maximum possible safety: the automatic pushing saw OptiCut S 50 from DimterLine offers you all this. The OptiCut S 50 is already highly productive for hundreds of customers - with the OptiCut S 50 you can cut up to 4 times more than a manual cross-cut saw with only half the staff! Simultaneously, you can profit from maximum timber yield by optimizing. Cut out antiquated customs and invest in your future! For there is enormous potential in cross cutting for you to achieve increases in productivity, profit and added value.
Prices
x
Different requirements - different prices
The price of a WEINIG machine is just as individual as your requirements are. Therefore, let us discuss briefly what is most important to you – you will then receive our preliminary, non-binding quote.
Personal advice
x
Personal advice – for higher productivity and greater efficiency
Together with your WEINIG expert you will find the ideal machine for your requirements. Simply submit the completed form, and your local WEINIG expert will be happy to discuss all further details with you.
---
The WEINIG OptiCut S 50 provides
Simple handling and operation
BG-certified work safety